A pneumatic tool is hand-held equipment, which increases productivity, a built-in pneumatic motor, due to which the energy of compressed air is used. Pneumatic impact wrenches need to be as powerful as possible, which means they need to be heavy.
The impact wrench works on the same principle as a hammer the heavier the faster you unscrew and tighten the nut. The pneumatic wrench can loosen tight fasteners such as rusted bolts or lug nuts. They can deliver out more torque and have a very promising rotating speed per minute.
There are also battery-operated and electric impact wrenches available on the market but they aren't as convenient to use. An air impact wrench is a both lightweight and very convenient tool for both professionals and home-based hobbyists.
Buying an air impact wrench, especially for those who haven't used one before, is a hard task. There are a variety of these wrenches available on the market by a long list of brands. To help you find out the best pneumatic wrench, we have reviewed the top five favorite wrenches in this article.
Since our readers are our number one priority, in this table we have carried out thorough research before ranking these air impact wrenches. This table has a summary of the main features and characteristics of our top 5 air impact wrenches, reviewed below.
#1. Ingersoll Rand 231C – Best 1/2″ Heavy-Duty Air Impact Wrench
Ingersoll Rand is considered as one of the top brands that manufacture top-class tools. The 231C isn't an exception. It is a super-duty impact wrench that is, although 25 years old, but still delivers proven reliability and performance. It has an amazing build and power to deliver an accurate performance. To top it off, 231C is very affordable.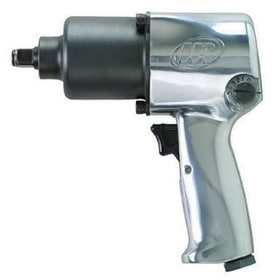 The 231C is considered a perfect air impact for all kinds of applications. Its classic design offers durability and performance. It has an ergonomic design that is quite convenient to understand, use, and maintain. It has a compact built to reduce stress on your hands and wrists while using it.
The hammer mechanism of 231C is strong enough to deliver a maximum 600ft-Lbs of torque. This intense power is enough to remove tight nuts or install fasteners. The Twin-hammer mechanism has a rotational speed that can reach up to 8,000 RPM. Besides, the 231C air impact wrench has an adjustable regulator which makes it easy to control the torque output.
The only two problems with 231C are that it is one the loudest air impact wrenches that you would ever buy and that its manual is a complete waste. You will need to contact customer support now and then.
Despite all the negatives, it is a great tool for both beginners and professionals to own. This wrench comes completely lubricated so you can use it right away.
Features
Weight: 6.4 pounds
Product Dimensions: 3.4 x 8.2 x 8.8 inches
Color: Silver and Black
Shape: Fixed Square
Blow Capacity per min: 1,200
Speed: 8,000RPM
Noise: 99dB
Durable structure
Max Torque: 600ft- lbs
Adjustable regulators
Material: Metal
Pros
A lightweight and easy-to-use wrench
Well-manufactured air impact wrench to own
Reasonably priced
Use it as soon as it arrives because it comes fully lubricated
Delivers a maximum torque of 600 ft-Lbs which is very promising
Cons
Manual isn't user-friendly
Produces a loud sound
#2. NitroCat 1355XL – Best 3/8″ Air Impact Wrench
The makers of NitroCat 1355-XL Air Impact Wrench have built this wrench with a single motto in mind. This motto is found wherever this wrench is available online and it goes like, all that power at half the noise.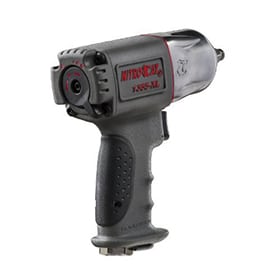 1355XL is exactly what this motto is all about. It is a powerful air impact wrench that gets everything done quickly and quietly. It is made from a patented technology that is quite rare when it comes to air impact wrenches. It operates at 86 decibels which is even lower than the recommended noise level.
1355XL by NitroCat is a lightweight and compact impact wrench. It has a durable structure and a weight of just 3 pounds. The lightweight body of this wrench minimizes stress and fatigue on hands. The handle of this wrench has an ergonomic design. This helps you to hold this wrench with ease and comfort. If you plan to buy an impact wrench for your long and tedious job, do consider 1355XL as an option.
The 1355XL has an easy-to-operate flip level that adds to the comfort that comes from using this wrench. It produces a maximum torque of 700 ft-lbs while loosening a nut and delivers 400 ft-Lbs of torque during work. It rotates at a speed of 10,000 RPM which is more than perfect for all kinds of jobs. The only negative thing about 1355XL is that the trigger moves to full pressure even on short distances. The sudden pressure does no good for jobs that need just a slight touch. With this being said, NitroCat 1355XL is still a wonderful tool to work with.
Features
Weight: 3 pounds
Dimensions: 6.61 x 6.5 x 2.2 inches
Material: Composite and Metal
Noise: 86 dB
Flip lever
Speed: 10,000 rpm
Max Torque: 700 ft-lbs
Blow Capacity per min: 1,350
Pros
Comes with a quiet technology that makes it a very suitable wrench to use at most the places
A powerful wrench that can handle different industrial and automotive jobs
Lightweight and durable so easy to hold and work with
A good run speed to perform every task on time
Comes with a one-year warranty for labor and parts
Cons
Controlling the pressure released from the trigger does require manual intervention at times
#3. AirCat 1150 – Best 1/2" Medium Air Impact Wrench
Calling the AirCat 1150 as one of the best performing air impact wrenches, won't be an overstatement at all. This wrench is known for delivering a brilliant output through its quiet operations. It performs better than the most expensive wrenches.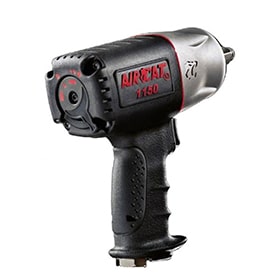 The AirCat 1150 wrench works well for old and used vehicles and engines.it generates a loosening torque of 1,295 ft-Lbs. It is also capable of removing all bolts with ease. This is possible because of its exceptional hammer speed of 1,400 blows/min. The rotor of this wrench is way more powerful than many generating an unmatched efficiency.
This wrench can achieve all this and more while generating a noise of just 86db. This is the noise level it makes at the maximum pressure.
Fortunately for AirCat, 1150 hasn't been much of a problem except for one thing that most users complain about. Its anvil, which drives this tool, doesn't fix on the sockets quite well.
The 1150 air impact wrench is an asset to keep. We recommend this for you because of its noiseless operations and work-performance. You have the option to rebuild this tool yourself rather than sending it to a factory. The 1150 impact wrench comes with two-year labor and parts warranty.
Features
Weight: 4.62 pounds
Dimensions: 7.5 x 2.8 x 7 inches
Color: Black
Finish: Powder Coated finish
Material: Metal and Composite
Max Torque: 700 ft-lbs
Shape: L-shape
Noise: 86db
Flip Lever
Speed: 10,000 RPM
Blow Capacity per min: 1,400
Pros
An easy-to-use and convenient wrench
Noiseless and produces a great out
Can be remade at home rather than sending on a costly trip to a factory
Comes with a two-year warranty for both parts and labor
Cons
Anvil doesn't fit well with the sockets
#4. AIRCAT 1076XL – Best 3/8″ Compact Air Impact Wrench
The AIRCAT 1076-XL is a well-built and compact pneumatic wrench. It weighs only 2.5 pounds which means that it is very lightweight. The AIRCAT 1076XL is designed keeping in mind the concept of a comfortable grip.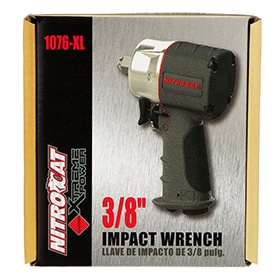 The 1076-XL is a rare pneumatic wrench that you would ever come across. The hammer mechanism of this wrench is bigger than most available wrenches. This mechanism is designed from Ni-Cr-Mo alloy steel that is heated three times before shaping into a hammer. This steel is great to provide reliability and power to this wrench.
If these features weren't enough the makers at AirCat have incorporated the silencing technology in its design. This technology allows 1076XL to produce a maximum noise of 85 dB only. It has a bolt capacity of 1650 bolts per minute and an amazing rotating speed of 900 Rpm.
Despite all the good features, it does lack a few properties that a good wrench must-have. It lacks longevity. Also, pulling out this tool from the socket is a hassle. It doesn't secure the socket well.
Features
Weight: 2.5 pounds
Dimensions: 4.25x3x7 inches
Color: Silver and Grey
Material: Composite and Metal
Shape: Square
Square Drive (in.): ⅜
Bolt Capacity (in.): 9/16
Speed: 9000 RPM
Blows Per Minute: 1650
Max. Torque : 550ft-lbs
Pros
Built with a jumbo hammer mechanism that uses three-times heated steel alloy for durability
Extremely compact
Manufactured with a comfortable grip
Silencing technology for a noiseless performance
Cons
Doesn't long last
Have issues with fixing it in a socket
#5. Ingersoll Rand 2235TiMAX – Best 1/2" Pneumatic Impact Wrench
Taken from the durability of the Ingersoll Rand 2135 series, 2235TiMAX is a monster when it comes to performance and reliability. This tool is an outstanding machine and delivers efficiency like no other. Made from strong titanium and a steel plate, the 2235TiMAX is a powerful and durable pneumatic wrench that can take up all extremes of pressure. This wrench also has a twin-hammer mechanism which only adds a lot more durability.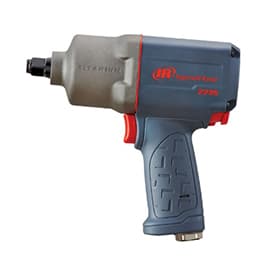 It is extremely lightweight and well-developed that your hands won't feel stressed or fatigued while using it. If you happen to provide repairing services or own an auto shop, try giving this wrench a try as it can perform better than most expensive tools.
This wrench is a top-class product but there have been issues with most users receiving broken parts and used wrenches. Make sure you receive it from a reliable retailer when you buy this out-class air impact wrench.
Features
Weight: 4.6 pounds
Dimensions: 7.6×2.9×7.48 inches
Head style: Fixed Square
Material: Titanium
Color: Blue
Max. Torque: 930 ft-lbs
Nut-busting torque: 1350
Twin-hammer mechanism
Pros
A well-developed pneumatic wrench that delivers 930 ft-Lbs of maximum torque
Made from strong titanium and steel to save from all kinds of environments
The twin-hammer mechanism adds durability and strength
Delivers value for money
Cons
Complaints of broken parts and used wrenches have been received
Guide: What Is An Air Impact Wrenches?
Factors to consider when buying an air impact wrench
Pneumatic tools are used in industries such as construction, engineering, metalworking, and mining, it is pneumatics for paint shops, painting furniture, and repair work. The pneumatic tool has several unique features, due to which it significantly outperforms its competitors, namely:
Pneumatic wrenches, drills, screwdrivers, and grinders have more power and performance than electric tools.
Air tools are safe tools in every way. This and the minimum risk of fire, and the practical elimination of injuries because the built-in mechanism is designed for large revolutions.
It is much cheaper to use pneumatic tools than tools connected to the mains
The disadvantages of pneumatic tools include the additional cost of a compressor for air supply, as well as the time required to organize the workspace. But once you set up the work, all these "minuses" will quickly pay off due to all the advantages that pneumatic tools have.
An air impact wrench can remove all nuts and bolts within minutes. An air impact wrench is torquing equipment that both professionals and home hobbyists can use. So, if you are any of the two, read this guide below and understand the factors you must consider before buying a wrench. 
Torque/Power
The power is the core element that makes an air impact wrench perform its job. In scientific terms, power is referred to as torque. Torque is the power that can change the movement of anything, in this case, bolts or nuts. When it comes to an air impact wrench, the higher the torque, the more power it will exert to fix any bolt or nut.
When you buy a wrench, you must be sure that your estimated torque requirement is correct. Torque is calculated in hundreds and every job has a different torque requirement. For instance, to remove a nut from a car's wheel requires a torque of 140 ft-lbs while this might vary when you want to remove a nut from a truck's engine. In that case, the maximum torque required is usually 500 ft-lbs.
The maximum torque can vary from the wrench to wrench. The Ingersoll Rand 2235TiMAX has a maximum torque of 930 ft-lbs while AirCat 1076XL has a torque of just 550 ft-lbs. Depending on your needs, you can choose the wrench with your required torque.
Rotations per Minute
An impact wrench works on rotation. It relies on this factor to loosen or tighten a nut or screw. It is always recommended to buy an impact wrench that has a high number of rotations per minute. A wrench with an RPM of 3,000 and above is perfect for all kinds of jobs.
A wrench with a low rotation per minute can prolong a project for no good reason. Always choose a wrench that priories the rotations per minute more than the torque and Impacts per minute. All the air impact wrenches reviewed above have a maximum RPM starting from 8,000 which is pretty awesome.
Blows per Minute (BPM)
Blows per Minute is also referred to as Impact per minute. The torque of your wrench and blows per minute should be well-balanced. In an ideal situation, similar to rotations per minute, blows per minute should be also high enough. This is because a wrench needs a lot of contacts to do its job properly.
If you are unable to pay for a pneumatic wrench with a high impact per minute, look for a wrench with a high torque and rotations per minute. If both these things are high, blows per minute are allowed to fall off.
The Air Compressor size
This is also a very important factor to consider before you plan out to buy an impact wrench. An air compressor sources power to the wrench. An air impact wrench is nothing without a good-sized air compressor. A shortage of airpower can even ruin the most amazing and expensive impact wrench.
To confirm that the impact wrench you are about to buy has a compressor that can meet all your needs, ask for the air consumption data measured in cubic feet. The minimum requirement of pressure needed for a wrench to work well is 90 psi. Air compression above this figure is considered perfect for your wrench.
Lightweight
Your air impact wrench must be lightweight. Who wants to work with a heavy wrench on a 9 to t job, anyway? A perfect air impact wrench is one that is compact and lightweight and doesn't impose stress and fatigue on your hands and wrists.
A lightweight impact wrench gives you more mobility to you and makes operations very convenient. All the reviewed wrenches above are extremely lightweight and compact.
Brand
This is important. Always consider the brand before you buy a pneumatic wrench. With a good brand comes durability which is the essence of using this tool. All the brands reviewed above, Ingersoll Rand, AirCat, and NitroCat, are well-established brands with a great reputation. They are known for manufacturing top-class air impact wrenches at feasible prices.
Video: How To Use Air Impact Wrench With Water/Oil filter
Conclusion
An air impact wrench is a magical tool that can help you achieve efficiency at work. Like any other tool, the best air impact wrench is one that is worth your money and time. So before buying one, do consider the factors mentioned in our buyer's guide. Consider the reviewed list of air impact wrenches above, as a first break-through step in your adventure of finding a great wrench.
FAQs
How does air impact wrench work?
An air impact wrench is equipped with an air motor. This motor applies a sudden motion to the nut. This twisting motion is usually delivered in short bursts. These short bursts that twist a fastener end up delivering a movement. This movement can then be used to either loosen or tighten a fastener.
How to put oil in the impact wrench?
There are two parts of an impact wrench that you must put oil in. You should start putting oil in the hammer mechanism followed by the motor.
Follow the following steps to put oil in an impact wrench:
Start with removing the plug placed on the oil port
Use a syringe to put some motor oil in the port. This is done to lubricate the hammer mechanism of an impact wrench.
Add 7 drops of air-oil in the port, this time to lubricate the wrench and the motor.
Run your wrench for a few seconds to properly distribute the oil between the hammer and the assembly.
Once done, drain the excess oil and cover the impact wrench with a rubber jacket.
What size air impact wrench for automotive work?
For automotive work, the Standard ½ Inch Wrenches are perfect and good to go.
What size air impact wrench for lug nuts
For lug nuts, a 3/8" or a ½" air impact wrench will work best. The ½" wrenches are, although expensive, they are immensely powerful.
How do you maintain an air impact wrench?
Here are seven ways you can maintain your air impact wrench:
Always use correct sockets for your wrench.
Take care of the cords of your wrench and keep a check regularly
Clean all the accessories that you use with your wrench.
Lubricate your wrench on a timely basis.
Always use cleaners that are recommended by experts and are widely preferred.
Avoid applying an excessive amount of Torque.
Clean the wrench after every use.
Can you use regular sockets with an impact wrench?
No, you shouldn't. An impact wrench can break a normal socket.