Various car accessories can enhance the style of your car. Of these, fender flares are the perfect option for off-road trucks with huge tires. When installed the difference they create is incredible.
If you plan to drive your car off-road, it is not unnecessary to put wheel arch extenders (or fenders). Fenders can protect the car body, and windows from splashing, dirt, gravel, and small stones. The best choice for Toyota FJ Cruiser is the extenders of American company Bushwacker, which has long ago earned a reputation as the leading manufacturer of accessories for pickups and SUVs.
Absolutely all products by Bushwacker deserve only the best in terms of quality of materials and durability. Fenders come complete with fasteners – so they are easy to install. But their price is very expensive, so in this review, we also considered alternative brands. A wide variety of brands are available that offer quality products with maximum function.
Off-road enthusiasts should opt for the best fender flares that are worth the price. This is because it not only enhances the appearance of your truck but also guarantees a great deal of protection. It's not easy to choose the right fender flare when there are multiple options available. To make things easier, our team has put up a list of the best fender flares for Toyota FJ Cruiser that are worth the value.
---
---
#1. Mallofusa – Textured Fender Flares for Toyota FJ Cruiser
Best Choice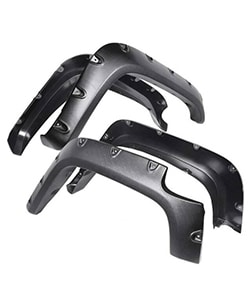 Mallofusa - Best Fender Flares
Protects your automobile from rocks, mud, and other debris.
Provides sufficient tire coverage along with a rugged appeal due to the presence of bolted nuts. Ensures complete protection from the UV rays, thus preventing the formation of warps.
Read More Reviews
Are you on the hunt for an additional tire coverage for your SUV? Mallofusa Fender Flares ensures added protection and safety. Moreover, they are compatible with the 2007-2014 models of Toyota FJ Cruiser.
Do you own one of these models? Get these beauties to adorn and upgrade the overall look of your truck. Though it exhibits an off-road and rugged appearance, it also shields from harsh external elements.
They are fully engineered using patented quality control standards. As for the anchors and screws, they are specially constructed using ABS plastic materials. Before you install, you have to remove the factory flares.
Features
Style: Pocket Riveted Style
Surface Finish: Textured
Color: Black and Grey
Materials: Quality ABS Plastic
UV Protection: Yes
Pros
Does not cause any chalking, warping, or cracking
Safeguards your wheel from any damages caused due to mud or sand particles
The washers, bolts, and nuts consist of stainless steel components
Weighted about 20 lbs
#2. Bushwacker – Toyota FJ Cruiser Pocket Style Fender Flares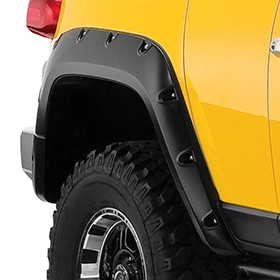 Do you wish to modify the look of your truck from a dull appearance to a bold style? Bushwacker Pocket Style Flare does the trick. Moreover, as they are UV protected, you don't have to worry about any warping, cracking, or chalking.
The installation process is quite simple, as you do not have to cut the side panels of your SUV or drill into them. They're capable of maintaining their shape even under extreme weather conditions.
As it provides a great deal of flexibility and durability, you don't have to worry about your wheels getting damaged. With the help of existing factory holes, you can attach these fender flares within a short period.
Features
Style: Pocket Style
Surface Finish: Smooth
Color: Black
Materials: Dura-Flex 2000
UV Protection: Yes
Pros
Provides lifetime warranty for any damages or defects
Dura-flex components ensure an ultra-strong fit
Custom made to suit specific vehicles
Weights 20 lbs
Cons
Clips don't ensure a snug fit
#3. Ikon Motorsports – Toyota FJ Cruiser Pocket Rivet Style Fender Flares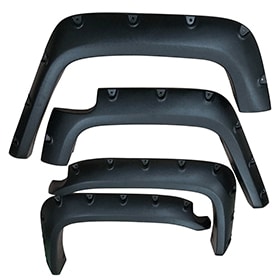 Are you looking for accessories to style up your Toyota SUV? Then the fender flares from Ikon Motorsports would be a great pick. These pair of fender flares are uniquely designed using high-quality pro guard plastic components.
They are compatible with most FJ Cruiser models of Toyota. It enhances the service life of your jeep as they are entirely UV protected.
Even though it comes in an unpainted sanded black option, you can paint it to match the color of your SUV. The package includes four pieces of fender flares and comes with a 30 days limited warranty in case of any manufacturing defects.
Features
Style: Pocket Rivet Style
Surface Finish: Unpainted
Color: Sanded Black
Materials: High-Quality ABS
UV Protection: Yes
Pros
Offers a contemporary style and appearance
Shields the new set of tires from getting damaged
Safeguards the paint job of your vehicle
Cons
Some users reported it might not offer a snug fit
#4. Scaller – Glossy Fender Flares for Toyota FJ Cruiser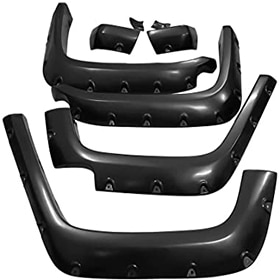 In need of extra coverage for your larger wheel and tire? Scaller fender flares offer sufficient protection giving a rugged bolted-on appearance.
The high-quality components used make it resistant to chipping or cracking. Also, it does not fade away even after prolonged exposure to the sun's rays.
You can also paint these flares to suit the color of your truck. They are very easy to install on your own, and the package comes with All the hardware required.
Features
Style: Pocket Riveted Style
Surface Finish: Textured
Color: Black
Materials: Light Weight ABS Plastic
UV Protection: Yes
Pros
Capable of upgrading the overall appearance
Can be custom designed to match your specifications
Exhibits a glossy and textured finishing
Made using a unique form of poly material
Cons
Instruction manual is not provided
#5. Auto Dynasty – Toyota FJ Cruiser Riveted Style Fender Flares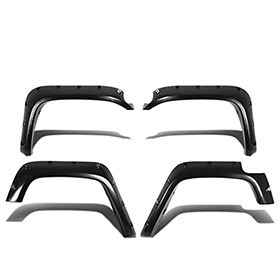 Auto Dynasty fender flares ensure a rugged style that is not at all clumsy. Many times, the flares protrude outwards, offering excellent air resistance. In this model, you won't come across any issue concerning performance and speed.
You can custom design it to fit your car perfectly. As for the installation, the package contains all the hardware required. You can fit them easily as no drilling or cutting is necessary.
Their primary purpose is to prevent rocks, sand, and liquids from getting sprayed onto the surface of the automobile. They offer high resilience against substantial impacts and comes with a thickness of 3mm.
Features
Style: Pocket Riveted Style
Surface Finish: Glossy Bump Texture
Color: Black
Materials: ABS Thermo Plastic
UV Protection: Yes
Pros
Offers coverage of 1.5" to both the rear and front tires
Available as a set of four pieces
Gives your car a completely new look
Weighs around 20 lbs
Cons
The adhesive effect may wear off with time
---
Conclusion
Fender flares protect your truck from rusting and other damages. It's an essential item as it will enable you to use your vehicle for a more extended period without doing any expensive repairs. Various styles and designs suitable for different purposes are available in the market.
Our best choice goes to the fender flares from Mallofusa, because they offer maximum service life to your vehicle by safeguarding the tires.
With a sturdy construction that consists of heavy-duty pro guard plastic components, it ensures excellent durability. They are easy to install and offer a wheel coverage of 2 inches. They are available as a set of four pieces and comes with all the necessary hardware to install. Moreover, you can paint it to suit the body color of your truck, giving it a contemporary feel.
---
Video: How To Install Fender Flares on Toyota FJ Cruiser
---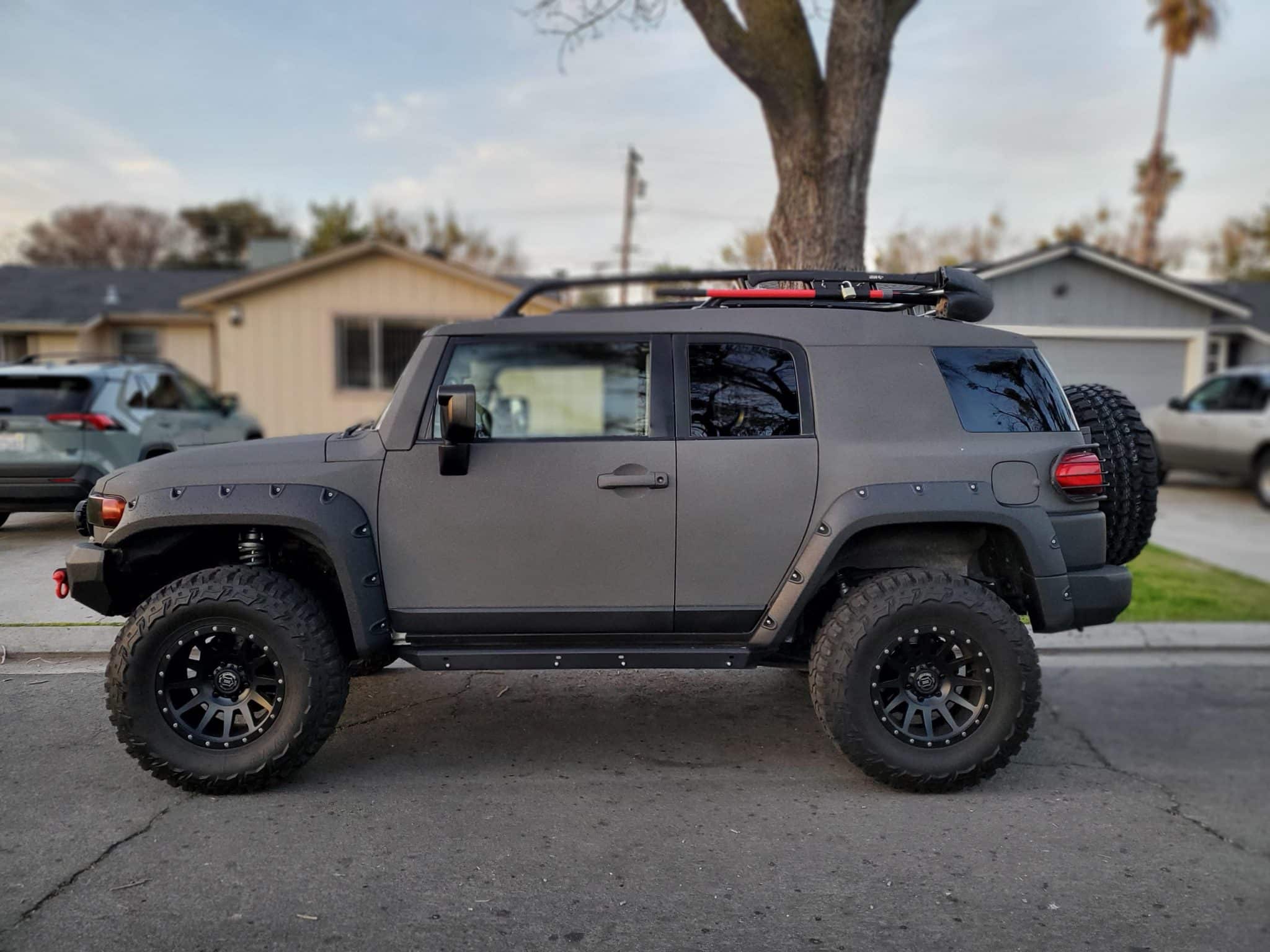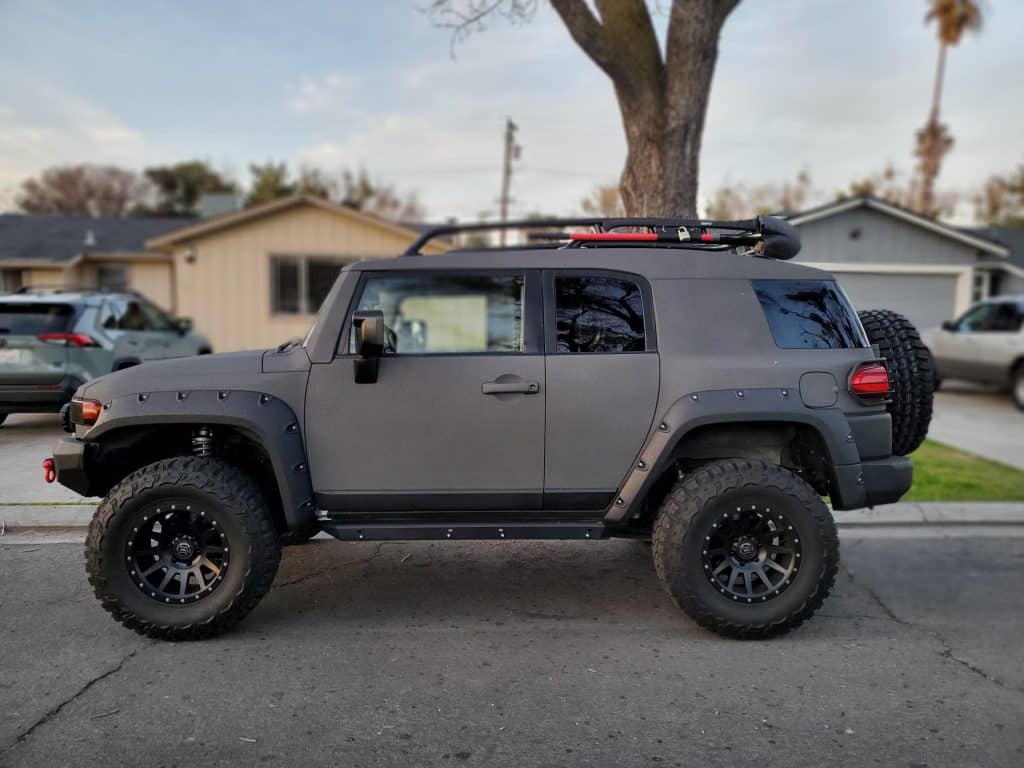 ---
FAQs
What are fender flares?
Fender flares are car accessories that you fit on top of the tires of your vehicle. They shield the tires from harsh environmental factors. You can fit them right over your wheel to give a great finishing appearance. They are mostly designed using ABS plastic components to provide a rigid foam.
Do you have to drill holes for fender flares?
If your truck comes with fender flares, it will have factory holes set in them. This will make installing a new set easier as you do not have to drill new holes. However, if it does not come with a fender flare or the new flares do not fit in the factories set holes, you may have to drill new holes for installing.
Would these fit if i've got a snorkel in place?
If you have a snorkel, you may have to trim the flare fender slightly to fit them together. However, for some thin models, you won't have to do so, as they don't come in contact with each other.
---
Related Reviews:
Best Snorkel Kit for Toyota FJ Cruiser
Best Shock Absorbers and Lift Kit