We may earn revenue from the products available on this page and participate in affiliate programs.
When it comes to off-road equipment, the winch is one of the most essential accessories you can have. It can be installed on any car, instantly transforming it into a true all-terrain vehicle. While it's easy to get your vehicle into tight spots, getting out can be a different story. That's where a winch comes in handy, especially when attached to a Toyota FJ Cruiser.
With a winch, you can easily pull yourself out of challenging situations, such as deep mud or steep inclines. This accessory is a must-have for any off-road enthusiast, as it can make the difference between being stranded or continuing your journey. So, if you want to ensure your Toyota FJ Cruiser is fully equipped for any off-road adventure, consider adding a winch to your list of accessories.
In the past, pulling a 4000 lb. car out of a hole might have seemed impossible. However, with the invention of the winch, a mechanical device equipped to the back or front bumpers of off-road vehicles, it has become a reality. This recovery tool is now a fundamental piece of equipment for off-road enthusiasts, including those who own a Toyota FJ Cruiser.
With a winch attached to your vehicle, you can easily recover from challenging situations, such as getting stuck in deep mud or snow. This powerful mechanical device can save you time and money on expensive towing services, allowing you to continue your off-road adventures with ease. So, if you're an off-road enthusiast looking to equip your Toyota FJ Cruiser with essential accessories, consider adding a winch to your list of must-have equipment.
If you're unsure regarding the best winch for FJ, there's no need to worry. In this review, we will help you decide the most suitable winch for your FJ. However, before we begin, it is important to know what makes up a decent winch for your car. The best winch would ideally have the correct suspension, a functioning drum, and an extremely strong rope.
Our motive is to inform our readers about the best winches available on the market. To make this process easier for our readers, we have compiled a small overview table that will help you identify the appropriate winch for a Toyota FJ Cruiser.
---
#1. WARN VR EVO 12-S – Winch for Toyota FJ Cruiser with Synthetic Rope
Best Choice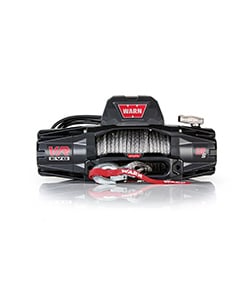 WARN VR EVO 12-S
#1 Winch for Toyota FJ Cruiser
Designed to make the task of pulling heavy loads easier, this winch comprises the latest technological and high-performance features. A strong, sturdy look and the ability to pull huge loads quickly and efficiently make this winch an incredibly desirable product.
Read More Reviews
WARN – Classics for offroading. Considered to be the best in quality. Only quality materials are used in the manufacturing.
If you're looking for a high-performance winch for your Toyota FJ Cruiser, consider the WARN VR EVO 12-S. With an impressive capacity of 12,000 lb., this winch can effectively pull a range of vehicles, from ¾ to 1-ton pickup trucks. Additionally, it can handle various frame rigs and has a capacity of nearly 5500 kg.
Equipped with an array of features, the WARN VR EVO 12-S is a reliable and efficient winch that can help you overcome challenging off-road obstacles. Its advanced wireless remote control allows you to operate the winch from a safe distance, while its powerful motor ensures fast and efficient winching. So, if you want to equip your Toyota FJ Cruiser with a winch that can handle any situation, consider the WARN VR EVO 12-S.
This standard-duty winch comprises an IP68 waterproof construction that allows you to wade through any environment. This prevents it from rusting quickly. It also has a two-in-one remote that gives users the option of choosing between wireless or corded operations. This modern technological feature provides convenience to the users since they are no longer bound to a particular operation.
The VR EVO features a cast-aluminum tie plate that provides the winch extra strength and sustains a large load. It also has a powerful Albright contactor, a relay switch that functions once a heavier current load is required. Thus, contractors are used to handling the heaviest load. In terms of the winch, the addition of this feature makes it a lot more durable and efficient. This is especially important in the case of the FJ Cruiser, which has a horsepower of 260 and a 4.0-liter V6 engine.
You would also want the load to be pulled quickly. For this reason, there is a high-performance motor that speeds up the line delivery despite being attached with a heavy load. This works especially well for heavy trucks such as the Toyota FJ Cruiser. The series-wound motor does not draw too much amp either.
This winch is also relatively easy to install on your cruiser. The installation process does not take more than 20 minutes on average. A great thing about this winch is that it comes entirely assembled and wired together. All you have to do is to run the cables to the battery of your FJ Cruiser, and you'll be good to go. The item weighs around 70.4 lbs., which is the only downside when it comes to the installation process.
A downside, however, is that the batteries of this winch are non-rechargeable. This increases the overall cost of battery upgrade, which can be heavy on your pocket especially considering the already expensive cost of the winch.
Features
IP68 Waterproof system
Albright contactor
Quick line speed
5500 kg capacity
Two-in-one remote for different operations
Synthetic rope
Winch weighs 70 pounds
Cast-aluminum tie plate
Pros
A high-performance motor allows the winch to pull heavy loads
A waterproof system means the winch is less prone to corrosion
A huge capacity for pulling
Simple installation process
The use of Albright Contactor makes the winch reliable
The two-in-one remote provides a lot of convenience to the user
Cons
Relatively expensive as compared to previous models
Heavyweight can cause problems during installation
#2. Smittybilt XRC GEN3 – 12000 lbs Winch for FJ Cruiser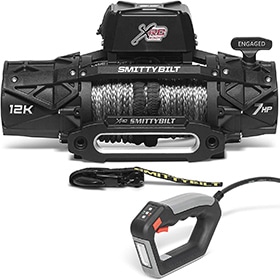 This winch has a huge 12000 load capacity which essentially means that you can pull almost any type of load hooked to this heavy-duty winch. This immense load capacity does not limit the line speed, nor does it make it operate slower. On the contrary, this winch has a faster line speed as compared to its previous model.
The Smittybilt winch comes equipped with a powerful 7.0 horsepower motor that can significantly increase the line speed by over 12%. This winch is highly energy-efficient and can pull loads at a rapid pace while conserving power. Its low amp draw also increases the electrical throughput of the winch, providing high quantities of power. Additionally, it boasts a spool speed that is 17% faster than the GEN2.
This winch comes with remote control with multiple features to make performing operations on it easier. It has a load indicator warning system that allows you to limit the equipment attached to the winch. The remote also comes along with a built-in flashlight. This allows you to hook up the winch to a load in dark conditions without involving yourself in a risky situation. The control box has a 12-V power post that can provide additional light as well.
This winch has a look that would perfectly match the body of an FJ. It has sturdy body armor made with forged steel. This means that this winch can last through the toughest conditions. It is also equipped with the latest equipment, such as the high-viz clutch lever. This feature allows you to identify whether your winch is connected to the load in a matter of seconds or not.
Smittybilt winch also comes with an IP67 rating, meaning that you can use this winch on an FJ without worrying about water or dust ingression.
Features
12000 load capacity
7.0 Horsepower motor
17 faster spool speed than the XRC GEN2
Remote control with multiple features
High-viz clutch lever
IP67 rating
Pros
An IP67 rating makes this winch both water and dust resistant
Includes remote control that shows the maximum load capacity
Tough body armor makes the winch resistant to external damages
An impressive 12,000 lb. load capacity
The remote control features a flashlight to allow operations in dark condition
Low amp-draw means more efficient electrical throughput
Cons
Expensive
Heavyweight can cause problems during installation
#3. Mile Marker Maverick 12 – Toyota FJ Cruiser Winch with Steel Cable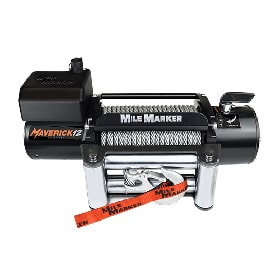 The Mile Marker Maverick 12 is a winch known for its outstanding strength and pulling force. It boasts a planetary 3-stage gear system, making it perfect for pulling heavy SUVs and trucks weighing up to 12,000 lbs. With a gear ratio of 210:1 and an all-metal construction, this winch is designed to withstand the toughest off-road conditions. It's an ideal option for off-roading enthusiasts who need a winch with a high pulling capacity of up to 12,000 lbs.
This winch also has an IP68 rating so that it can be used in almost every weather condition. It is both waterproof, dust, and snow resistant. The fully sealed 400 AMP solenoid also helps to protect it from harsh conditions. The winch is also coated with black powder to make it corrosion-resistant. The clutch handles of the winch are also coated with black zinc to make it more durable. This allows for extended usage, something that we all desire in our winches.
One of the most important features of this winch is the steel cable that it comes with. The 80 feet galvanized steel cable is strong enough to pull most heavy objects and is unlikely to break under duress.
This winch comes with a handheld remote control with multiple features to make performing operations easier. You can operate the winch from a safe distance with this remote control. The connectors of the remote are also completely sealed. This prevents any damages due to extreme weather conditions.
It also comprises a 4.9 horsepower wound motor. Besides, this allows it to have a quick line speed. The overall weight of the winch is 41 kg. This is ideal for an FJ Cruiser. Another great feature of this winch is that it is equipped with an automatic load-holding brake. This makes operating on the winch a lot safer and smoother.
A drawback, however, is that this winch's battery requires excessive power and needs a strong and efficient battery to operate for long periods.
Features
IP68 rating
400 AMP Solenoid
Corrosion-resistant coating
Fully sealed remote control
4.9 HP motor
3-stage planetary gear system
210:1 gear ratio
12000 lb. pulling capacity
Pros
Zinc-coating makes it resistant to corrosion
The automatic remote control makes operations easier
Incredibly strong build quality
Strong steel cable
High pulling capacity
Cons
Requires a lot of battery power
Buyer's Guide. How To Choose The Best Winch for Toyota FJ Cruiser

Buying a winch for Toyota FJ Cruiser can be a daunting task. Not knowing the specifics behind what you're buying can often lead you to make the wrong choice. To avoid this from happening, there are certain details you should always remember when picking a winch for Toyota FJ Cruiser.
Types of winches:
Manual winch
A manual winch is the easiest, cheapest, but also the most labor-intensive way to pull a car out of the mud or pit. They work by the muscle power of the car owner:)
Mechanical winch
A mechanical winch is considered the most dependable type of winch as it operates using the vehicle's engine power. It boasts immense pulling strength, but it has a significant drawback. As the rope winds, the vehicle's wheels also spin, and the rope speed and wheel rotation speed may not align. As a result, the winch may pull, but the wheels may become stuck or bogged down, causing difficulty in moving forward.
Electric winch
The electric winch is the most common and the best pulling device. The winch of this type is a drum with a rope and a reducer, but it is driven by an electric motor. Such a device is controlled by a remote or wireless remote control. All work with such a winch consists of three actions: pressing the "unwind" button to pull the rope to the desired length, fixing it on the car, and "unwinding". The drum of such a winch usually holds up to 30 meters of cable, and pulling forces can range from 2,500 to 12,000 pounds. The most common type of winch is 9,500 pounds. That kind of force is enough for almost any situation.
Most winches in the 8,000-12,000-pound range have the same motors, the main difference being the gear ratio. On the 9500 and 12000 models, the ratios are almost twice as different. The lower gearing allows for more force, and the motor uses less power at higher loads. At the same time, the rope speed will be slower at medium loads and no load, but faster at higher loads. Winches with a higher index have a higher price, of course, and greater reliability and durability under the same operating conditions. In addition, more powerful winches have larger dimensions, more weight, and a thicker rope.
Capacity Rating
The capacity rating depends on the maximum weight that a winch can pull. This is also known as the winch line capacity rating. For a Toyota FJ Cruiser, your winch should be able to pull twice the total mass of the car. The weight of an FJ is around 1900, so the capacity rating should be well enough to sustain a load of twice this size. Any additional weight of other equipment in your car can also be sustained.
Rope Material
The rope is one of the most important parts of a winch. To choose the right winch cable, you must make the correct choice based on the durability of the wire. Steel winch wires are often chosen ahead of other wires because of their durability. These are also less likely to wear out after being dragged around harsh terrains. However, steel wires are quite heavy to operate on and can rust quicker than other types of wires.
The other type of rope that is commonly used is synthetic rope. This type of rope is considerably lighter than steel ropes. They can also fit a larger length on the winch spool and can easily be fixed if they snap in half. Unfortunately, synthetic ropes are more expensive than steel ropes. They are also more likely to wear out quicker than steel ropes.
When choosing a winch rope for your FJ Cruiser, the ideal material depends on various factors such as budget and the terrain you'll be traversing. Generally, steel ropes are considered more durable than synthetic ropes, making them a better choice for harsh conditions. However, if you prefer a more straightforward installation process, synthetic ropes may be a more suitable option. Ultimately, it's important to weigh the pros and cons of each type of rope and choose the one that best fits your needs.
Dust/Waterproof
When buying a winch for an FJ Cruiser, you must ensure that it is IP rated. The IP code of a winch shows how resistant it is to water and dust. This is required to protect the internal components of the winch. Otherwise, your winch may stop functioning after it is exposed to certain conditions.
The number 6 in an IP code means that your winch should be resistant to dust ingress. The number 7 or 8 means that you can submerge your winch in not over 1 meter of water. This is especially handy when you have to immerse the winch in a water body. Most winches come with an IP67 or an IP68 rating (e.g., WARN VR EVO 12-S).
This indicates that the winch will prevent dust and water ingress for up to 1 meter inside the internal casing.
Never buy a winch that doesn't have an IP code. You never know what conditions will require you to use a winch, and hence it is important to prepare for the worst of times.
Remote Control
This handy feature can provide you with a great deal of comfort since it is the more convenient alternative to the traditional hand crank. In addition, most companies have integrated this feature into their winches, making operating on it a lot easier.
With the help of a remote, you can operate a winch from a distance of over 50 feet. This reduces the amount of physical exertion that was previously required and makes working with winches safe to use. An example of a winch for an FJ that comprises this feature is the WARN VR EVO 12-S. Additionally, you can choose between a wireless and corded operation simply by the click of a button.
Warranty
Perhaps one of the most important things you should look for in a winch is the warranty. A decent warranty claim would have a minimum of 2-3 years. This should include water ingression and the malfunction of electrical components.
When purchasing a winch for your Toyota FJ Cruiser, it is important to check the warranty for protection against damages. Repairing winches can be very expensive, so it is best to thoroughly read and understand the warranty claim, especially regarding damages caused by water or similar incidents. It is also helpful to have a knowledgeable person check the claim to prevent future additional charges.
Important to know
Remember a few important things to keep in mind when working with a winch. It is important to understand that ropes tend to tear under load, and a taut steel rope flies at the speed of a bullet when it breaks. Therefore, never stand by the cable itself when pulling out. Always use special weights placed on the tensioned cable – they dampen the energy of the tensioned cable. And one more rule – never work with a steel wire rope without gloves. A winch is a powerful tool with a high degree of danger. Therefore, always follow safety procedures when working with it. And don't skimp on winches. A rescue tool should be reliable, not cheap.
---
FAQs
How much weight can a winch pull?
As we have already uncovered, different winches can pull different weights. On average, winches can pull a capacity of 4,000 lb. to 18,000 lb. Therefore, the winch capacity can be determined by multiplying 1.5 X the gross weight of the vehicle. This would give you the recommended winch rating.
How can I double my winch capacity?
You can use a pulley block to double the winch capacity. Basic laws of physics imply that using a pulley distributes weight among the ropes equally, allowing you to increase your winch's pulling capacity.
What do you need to operate an electric winch?
You would require an electric motor (Permanent magnetic or series wound), gear trains to pull heavy loads (Spur gear, worm gear, or planetary gear), a battery-powered by an AC system or a DC system, and common power supplies.
What is the difference between hydraulic and electric winches?
Electric winches are powered by a battery (in most cases, the vehicle's battery) and have a limited duty cycle depending on the battery's capacity. Hydraulic winches, on the other hand, are commonly powered by a steering pump. As a result, they have an extended duty cycle and can supply pulling power for larger periods.
What is the purpose of the winch?
This device allows you to move the off-road vehicle with a rope, by pulling it to any stationary object. To a tree, a large rock, or other vehicles. The drum of the winch rotates, winding the rope around itself and pulling the car.
What is the max winching distance?
The maximum winching distance refers to the maximum distance that a winch can be used to pull or lift a load. The maximum winching distance will depend on a variety of factors, and it is important to consider these factors when determining the maximum distance that a given winch can be used to pull or lift a load.
Key factors:
The maximum winching distance will be determined by the capacity of the winch, which is typically measured in pounds. For example, if the winch has a capacity of 9,500 pounds, it will be able to pull or lift a load that weighs up to 9,500 pounds over a given distance.
The maximum winching distance may also be affected by the type of cable or rope being used. For example, a winch with a synthetic rope may have a greater maximum winching distance than a winch with a steel cable, due to the lighter weight and greater flexibility of the synthetic rope.
The terrain and conditions in which the winch is being used can also affect the maximum winching distance. For example, if the winch is being used on a steep incline or in wet or muddy conditions, the maximum winching distance may be reduced.
---
Conclusion
Buying a winch for your FJ Cruiser can be a tricky task. Various elements determine the perfect winch for your cruiser. However, some base features must always be sought when looking for a winch. Some of them include a solid IP rating and a large loading/pulling capacity. WARN EVO 12-S seems to comprise both these features with additional elements destined to go along perfectly well with an FJ Cruiser.
Most customers tend to rely on a fast-pulling capacity as well. Therefore, when selecting a winch for an FJ, make sure that you know the prerequisites of a solid winch. Winches are expensive products, and all customers are advised to seek the help of a professional before selecting a winch. That being said, we hope that you gained sufficient knowledge from this article and will be able to make the perfect choice for yourself!
---
Video: How to Use a Winch
---
Winch Size Calculator
---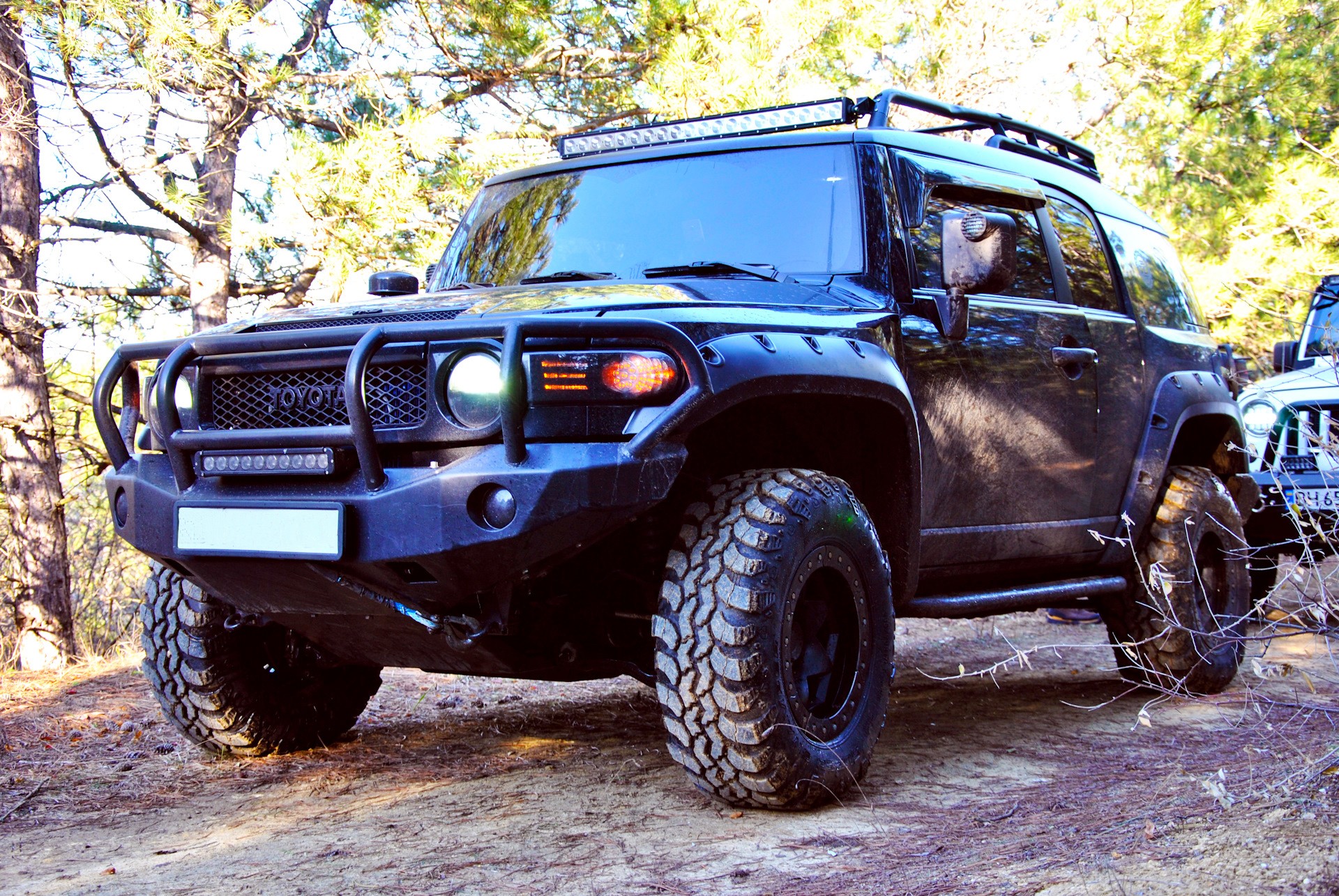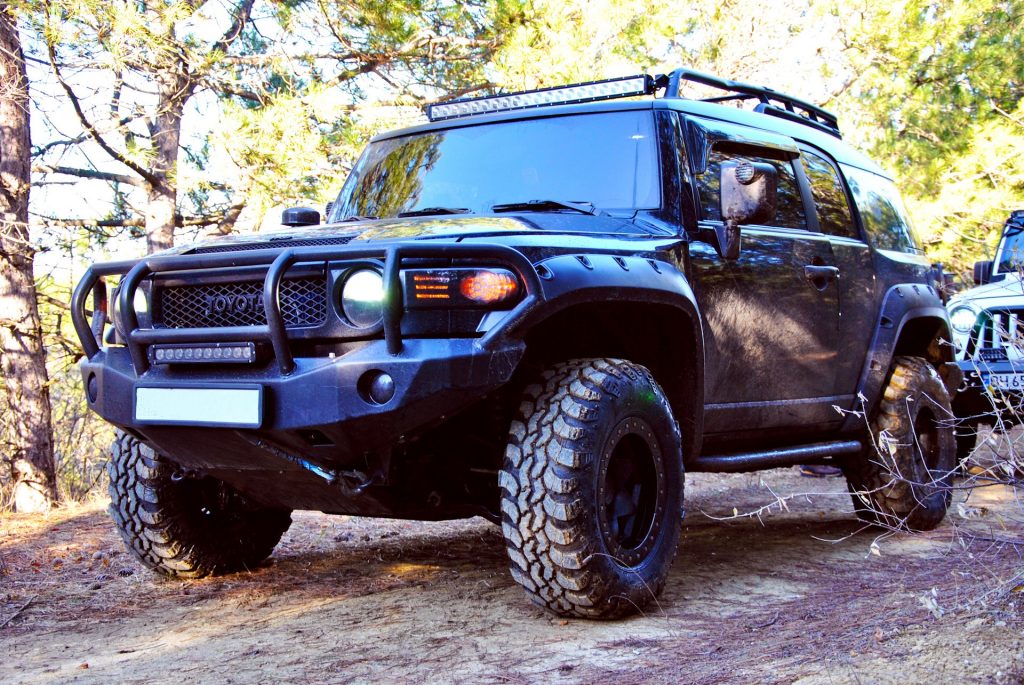 ---
Related Reviews: