We may earn revenue from the products available on this page and participate in affiliate programs.
The Toyota FJ Cruiser has outstanding capabilities off-roading and this vehicle is very popular when it comes to camping and other outdoor activities. When you need to transport a large amount of cargo (especially oversized) in your car, it can be solved in several ways:
Buying a trailer
Expedition car roof rack installation
If you own a Toyota FJ Cruiser, you need to get yourself a roof rack system. The main purpose of the roof rack is to give you more space inside your vehicle. With a roof rack, you can freely travel anywhere your heart desires with a lot of baggage that you have. By placing the extra cargo on your roof, you will be able to fit all people inside your car. Without the right roof rack, you won't be able to carry the loads your vehicle was intended to carry.
Advantages
The expedition rack reliably protects the roof of the SUV from damage. It is great protection for the car's auxiliary light and radio antenna mounted on the roof. It can hold large-sized equipment. Do not forget about the aesthetic component – without an expedition trunk, the SUV looks unfinished.
Disadvantages
The advantages of the roof rack are obvious and significant, but it also has disadvantages. Among them – is large frontal air resistance and, as a consequence, increased fuel economy. Additional weight on the roof shifts up the center of gravity, which leads to the wobbling of the car and makes it more sensitive to roll and lateral sway when driving on bad roads. Increasing the SUV's height by 8-15″ may cause problems with parking in parking lots and garages.
What to choose?
So, weighing all the pros and cons, you've come to the conclusion that you can't do without the top trunk. But which one to choose? Strangely enough, there is no big difference between them. All equally heavy and strong. Therefore, when choosing a luggage rack in the first place, you should pay attention to its functionality, and how convenient it will be to place equipment and gear on it.
It is necessary to make sure that fasteners to the car fall on factory seats. The exterior design also plays a role – the roof rack must look like an extension of the car. Also, when choosing, be sure to pay attention to the size of the product – it should not protrude beyond the dimensions of the car.
It is not easy to find out the best roof rack for Toyota FJ Cruiser and therefore for your ease we are here compiling some of the products, so you can easily select through this overview guide which one is best for your Toyota FJ Cruiser.
---
#1. IKON Motorsports – Toyota FJ Cruiser Roof Rack
Best Choice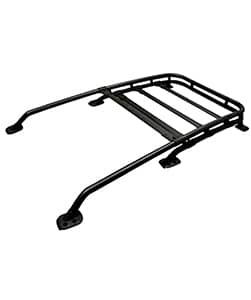 IKON Motorsports
Best Roof Rack for Toyota FJ Cruiser
IKON Roof Rack is the perfect fit for your car. It's custom-designed to carry extra cargo and withstand harsh weather conditions.
Read More Reviews
IKON Motorsports is the original and best roof rack manufacturer for the Toyota FJ Cruiser. It rack system utilizes the factory roof rack mounting points to ensure an easy installation while providing full security and a strong, durable base rack system that leaves no hardware exposed. You can choose from polished silver color or all-black racking. Other durable features include custom anti-sway side plates, durable and stylish fabric rain covers which can be purchased separately and clean finished cuts around design features.
The IKON Motorsports roof rack is designed for long-term use and provides a great combination of easy installation, lightweight, and strength. Made from 1″ tubular steel, black powder-coated with all hardware included, this roof rack is the perfect answer to launching any adventure from your vehicle; whether on an overland tour or just heading out for the weekend.
The IKON FJ roof rack offers two great styles, with new spring-loaded Edge feet that reduce the noise you make on your way down the road. IKON roof rack constructed of heavy-duty materials to ensure a long life.
This IKON rack includes (2) 90″ x 48″ long base rails with left and right top feet, (1) 84″ x 32.5″ CrossFit Bar for secure mounting of accessories on top of the rail, locks set for security, coating to prevent rusting, brackets to mount lights on the bar.
Features
Material: Aluminum
Color: Black/Polished silver
Maximum load-carrying capacity: 150lbs
Style: Toyota OEM
All-titanium system bolts
Roof racks fit well on the Toyota Fj Cruiser model from 2007 to 2014
Pros
Keep things secure in your vehicle
The rack is designed to be easy to use
Won't rust, corrode, or come apart
Low profile
The mounts are lightweight
Cons
You have to buy nuts and bolts because they only contain tap screws
#2. ECOTRIC – Aluminum Toyota Fj Cruiser Roof Rack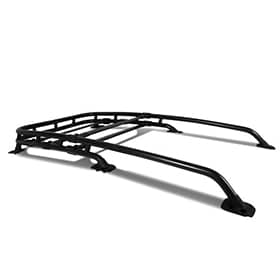 ECOTRIC has been specifically designed to fit the Toyota Fj Cruiser and its unique factory roof rack rails. All ECOTRIC aluminum racks come with T-Track mounting brackets for attachments such as Basket, Bike Kit, Ski Carrier, Cargo Boxes, and Kayak Carriers. ECOTRIC Aluminum mounting system is a simple, bolt-on, and bolt-off type of roof rack. It gives you the highest quality product to carry your gear for years to come.
Maximum load up to 600 lbs. This roof rack system consists of 4 crossbars, steel mounting clamps, and all required mounting hardware – everything you need to carry extra luggage on your Toyota Fj Cruiser. The roof rail clamp kit is sold separately.
The perfect fit for Toyota FJ Cruiser 2007-2014. It is a TRD styled roof rack that will enhance the appearance of your vehicle. You can easily mount this rack on your car without damaging your paint or making any drill hole on the roof. It is best to buy an aluminum roof rack for your Toyota FJ Cruiser. Do not settle for cheaply made racks that do not fit your vehicle.
Features
Material: Aluminum
Color: Black
Maximum load-carrying capacity: 150lbs
Style: Toyota OEM
It's an all-steel slider
Direct Bolt-On Installation
No drilling is required
Pros
Easily load your gear without damaging your vehicle
It is a complete universal design
Easy to install and remove
Cons
Difficult to understand the instructions for installation
It is a little expensive
#3. Rhino-Rack – Mounting System for Toyota Fj Cruiser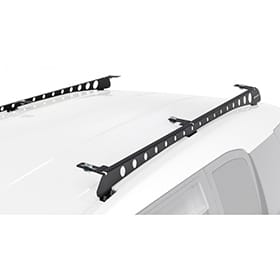 Rhino-Rack for the Toyota FJ Cruiser has been engineered and tested to meet stringent safety standards and comes with all the hardware necessary for a safe and secure installation. The steel-reinforced mounting system provides strength and support and is designed with a minimal impact on the vehicle's appearance. Its sleek design ensures optimum aerodynamics and fits into the lines of your FJ Cruiser's profile.
The factory crossbars on the Toyota FJ Cruiser made it nearly impossible to carry anything outside of a roof bag. The low roofline and factory rack system has many downfalls that were frustrating for off-roaders and people wanting to travel light. A large over-the-top rack was too big and too heavy for the vehicle. A roof cargo basket did not provide enough space for gear when going off-road or out for a day trip. The Rhino-Rack Overlanded Series fills all these voids and more while keeping true to the styling and comfort of the travel vehicle.
The Rhino-Rack Toyota FJ Cruiser roof rack is designed to fit your car without any modifications. Installation is quick and easy.
Rhino-Rack is one of the best mounting systems for the Toyota FJ Cruiser. It has a different look as compared to other mounting systems. The rack has clamps and a rubber padding device that assists in protecting the car from scratches and other possible damage resulting from improper loading. Rubber pats are also useful in keeping the items highly secured to the rack.
The device can be used for any vehicle which has the same type of roof design as that of the Toyota FJ Cruiser. The systems are well-made, but some FJ drivers have reported a few issues with installation. If you want a complete metal roof rack system, this is one of the best choices for your car.
Features
Material: Aluminum
Color: Black
Maximum load-carrying capacity: 220lbs
Style: Off-Road/Low profile
Rhino-Rack FJ Cruiser bars are constructed of 2″ steel tubing
Aerodynamic design
Quality all-weather coatings
It comes with an extra rail kit
Pros
Easy to install and require no drilling
A secure, safe, and durable roof rack
Versatile and low profile
Cons
Installing may be difficult
This rack is a bit expensive
#4. BajaRack – Flat Roof Rack for Toyota FJ Cruiser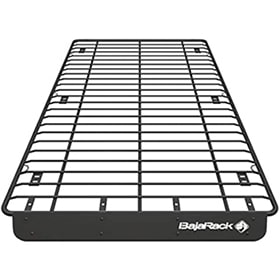 Are you looking for a Toyota FJ Cruiser roof rack to carry all your stuff? BajaRack is the best because it is made of aluminum steel and powder coated. For the good Toyota FJ Cruiser roof rack, look no further than BajaRack. Made to fit Toyota FJ Cruiser models from 2006 to the present. It gives you incredible strength and durability not found in other racks of its kind. Plus, it is lightweight and stylish so your Toyota FJ Cruiser will look great with it.
Loaded with all of the features you'd expect from a full-sized rooftop cargo basket, the BajaRack includes tie-down straps to secure it in place, Full-length side racks for securing cargo between them and holding gear off the roof of your vehicle. This rooftop cargo carrier has been proven on thousands of FJ Cruisers.
The BajaRack is the ultimate roof rack for your Toyota FJ Cruiser. A classic nut and bolt assembly attach the rack to your roof for quick and secure installation. With its low-profile design, it mounts discreetly on your roof for a clean and stylish look. You'll be able to add more space to your Toyota FJ Cruiser with this BajaRack flat roof rack. Whether you're on a road trip across the country or just go fishing, this roof rack basket is specifically designed to make your experience better.
Features
Material: Aluminum
Color: Black
Maximum load-carrying capacity: 300lbs
Style: Off-Road Type/Basket
UV tested and is rustproof
Has multiple compartments of all shapes and sizes
Includes a wind deflector
Pros
Has a stylish and ergonomic design
Easy to install on the roof of your FJ Cruiser
Conclusion
Most of the aftermarket accessories available for a Toyota FJ Cruiser are made by IKON, Rhino-Rack, BajaRack, ARB, Thule, and Yakima. They are few but offer quality options. In this review, we've researched and reviewed some of the best roof rack options currently on the market for you. Now your choice!
---
Video: How to Install a BajaRack Roof Rack
---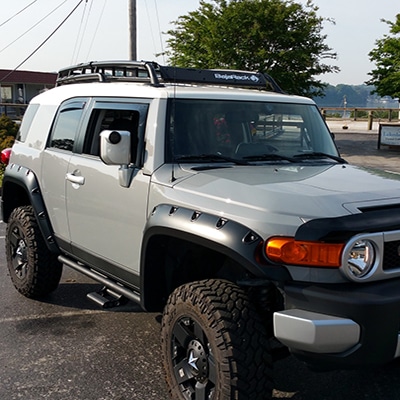 ---
FAQs
Do roof racks affect fuel economy?
Roof racks can potentially affect a car's fuel economy. Roof racks can create drag and reduce the car's aerodynamics, which can lead to increased fuel consumption. If the roof rack is overloaded, it can add extra weight to the car, which can also lead to increased fuel consumption. If you are concerned about the impact of a roof rack on fuel economy, you may want to consider using a streamlined, low-profile roof rack that is designed to minimize drag.
Can I leave a roof rack on all the time?
It is safe to leave a roof rack on your car all the time as long as the rack is properly secured. The decision to leave a roof rack on your car all the time will depend on your specific needs and preferences. If you use the roof rack frequently and need to have it available at all times, it may be convenient to leave it on the car. However, if you only use the roof rack occasionally, you may want to remove it when it is not in use to minimize the impact on fuel efficiency.
Related Reviews:
Best Shock Absorbers and Lift Kit for Toyota FJ Cruiser