We may earn revenue from the products available on this page and participate in affiliate programs.
Off-road enthusiasts and drivers who often traverse challenging terrain may find themselves in a precarious situation when their vehicle gets stuck in a deep pit. In such cases, lifting the car slightly may be necessary to free it, but modern cars with plastic covers and thin metal bodies can pose a challenge. This is where rock sliders come in. These sturdy metal bars are mounted along the side of the vehicle and provide a solid point of contact for a jack, allowing easy access to the vehicle's frame and enabling drivers to lift the car with ease.
Having rock sliders also offers the advantage of protecting the sides of the vehicle's body from damage caused by trees, large rocks, or protruding rocks. Stock nerf bars, made of lightweight aluminum profiles and plastic, are usually attached by small bolts to the body and do not provide any significant protection. Rock sliders, on the other hand, are made of heavy-duty steel or aluminum and are mounted directly to the vehicle's frame, providing better protection against impacts and ensuring the vehicle's structural integrity is maintained.
Rock sliders are designed to protect the vehicle's body from damage, especially when driving off-road. Unlike OEM nerf bars that are typically made from lightweight materials and attached to the body with small bolts, rock sliders are constructed using durable materials and are attached to the vehicle's frame for added strength. This allows them to withstand the weight of the vehicle when it is applied to a single point, providing greater protection. However, rock sliders should also be designed to provide a comfortable step when entering or exiting the vehicle.
Adding off-road side steps to your SUV not only provides convenience for you and your passengers when entering and exiting the vehicle but also protects the interior from dirt and debris. To help you find the best rock sliders for your Toyota FJ Cruiser, we have analyzed and searched the market to provide a list of the top five options available. Our goal is to assist you in finding the best side steps for your Toyota FJ Cruiser while staying within your budget.
We totally understand in today's busy world, you may not have time to look for off-road side steps for your Toyota FJ Cruiser. And you may find it challenging to find the best-priced ones. We have done all the hard work for you in compiling a list of the top five side steps for your SUV.
---
#1. Tyger Auto – Off-Road Side Steps for Toyota FJ Cruiser
Best Choice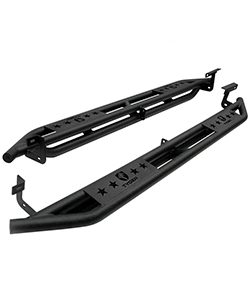 Tyger Auto - Best Off-Road Side Steps
Textured Black Star Armor Kit
Built to withstand the toughest off-road experience, these side steps will help to keep the inside of your SUV clean!
Read More Reviews
The Tyger Auto side steps are compatible with all Toyota FJ Cruiser models from 2007 to 2014. Featuring patented STAR metal step pads, this side step provides excellent support for entering and exiting off-road vehicles. The powder-coated finish gives it an attractive appearance. Furthermore, installation is a breeze since it requires no drilling and can be bolted on easily.
The dual-coated powder finish lends to an attractive look. With easy bolt-on installation, this side step does not require any drilling.
Even those off-road enthusiasts that are very tough on their SUV will see the Tyger Auto will withstand the most difficult terrain. These running boards are built to last! Each one has been coated with a special solution inside and out and has been pre-treated to remove any impurities.
Features
The tubes are sealed to keep out any dirt, water, and debris
These side steps feature a US patented design
No drilling required with the easy bolt-on installation
Maximum underside protection due to the dual girder system
Metal side steps assist individuals in getting in and out of higher lifted trucks and SUVs
Meets or exceeds OEM quality standards
Have a 500-pound rating
Pros
Comes with a five-year warranty that is "no-hassle"
Easy installation
Unbeatable quality for the price
Very sturdy
Has a hardcore look to them
Cons
Rust has been an issue with some consumers
#2. N-FAB – Textured Side Steps for Toyota FJ Cruiser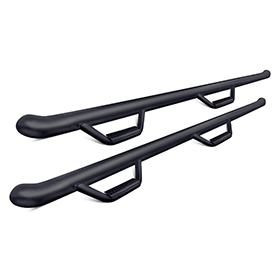 The N-FAB textured side steps are designed to make a statement and catch people's attention. These off-road nerf bars are built to withstand the toughest terrains, thanks to their four-stage powder coating process. Additionally, they come with a 5-year finish warranty for added peace of mind.
While these will not provide you with any protection when you rock crawl, they do make it easier for passengers to get into your Toyota FJ Cruiser, especially if you have a lift on it.
Features
Long-lasting finish due to the 4-stage powder coating
Provide superior stability and traction in the elements
Five bolt installation
100% welded construction
Innovative hoop and step mounting system
Pros
Quick installation
Looks exceptional
Makes getting in and out of the car easy
Built solid
Cons
Won't fit doors with cladding
Bolt to the running boards, not the frame
No instructions included
#3. MaxMate – Toyota FJ Cruiser Nerf Bars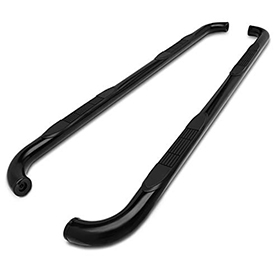 MaxMate side steps are designed to fit 2007-2014 Toyota FJ Cruiser models. Their wide step pads are UV-resistant and non-slip, providing easy access to the SUV for shorter individuals. Manufactured following OE standards, these steps ensure a perfect fit and are easy to install.
Features
Black powder-coated 3 inch round tubing
Rust resistant
No drilling installation
Five-year warranty
Zero vibration
Pros
Heavy duty
Has a no-hassle warranty
Has excellent customer service
Easy to install
Holes line up perfectly
Cons
The bolts at the bottom are visible
The underside may disintegrate after several years
#4. Smittybilt – Toyota FJ Cruiser Rock Sliders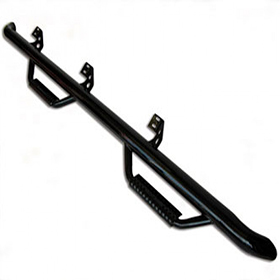 The Smittybilt side steps are compatible with all FJ Cruiser models. These steel running boards have an innovative four-step drop-down design and are built with a welded plate that is resistant to cracking or breaking. They also feature a durable powder-coat finish for long-lasting protection against corrosion and other forms of damage.
Smittybilt is committed to providing excellent products that last a long time. This is why their steel side steps have a rating of 445 pounds the highest in this class.
Features
Manufactured with 304 marine grade stainless steel
No drill application
Corrosion-resistant
Heavy-duty heel to wheel coverage
Pros
Easy installation
Fully functional
Good quality
Excellent price
Cons
May corrode after several years
Support was not stellar
The coating is a bit on the thin side
#5. APS iBoard – Aluminium Side Steps for Toyota FJ Cruiser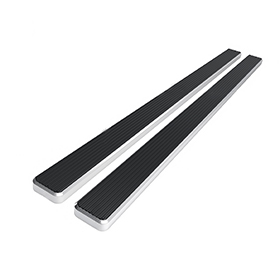 APS iBoard running boards are the best aluminum side steps we have found. They will support up to 300 pounds on each side and were designed to be used on 2007-2014 models.
These off-road nerf bars were developed with safety in mind. The rigid rubber top makes it easy to step in and out of the vehicle, making it harder to slip. And if these step bars get dirty, which you know they will, they are very easy to wash down with a hose.
Features
Clean and modern design
Run across the entire length of the bar, making it easier to access the windshield and rooftop.
Holds up to 300 pounds
No drilling required with bolt installation
All mounting hardware is included
Pros
Sturdy
Attractive
Easy to install
Low profile look
Decently priced
Cons
People will be constantly bugging you about where you got them
Conclusion
Our number one goal is to provide you with the best information so you can make an educated decision on which one is right for you. If you are looking for off-road rock sliders that are tough and rugged, consider going with our number one choice – Tyger Auto. These side steps will provide you with an attractive look that will last a long time on your Toyota FJ Cruiser.
---
Video: Toyota FJ Cruiser Rock Rails Installation
---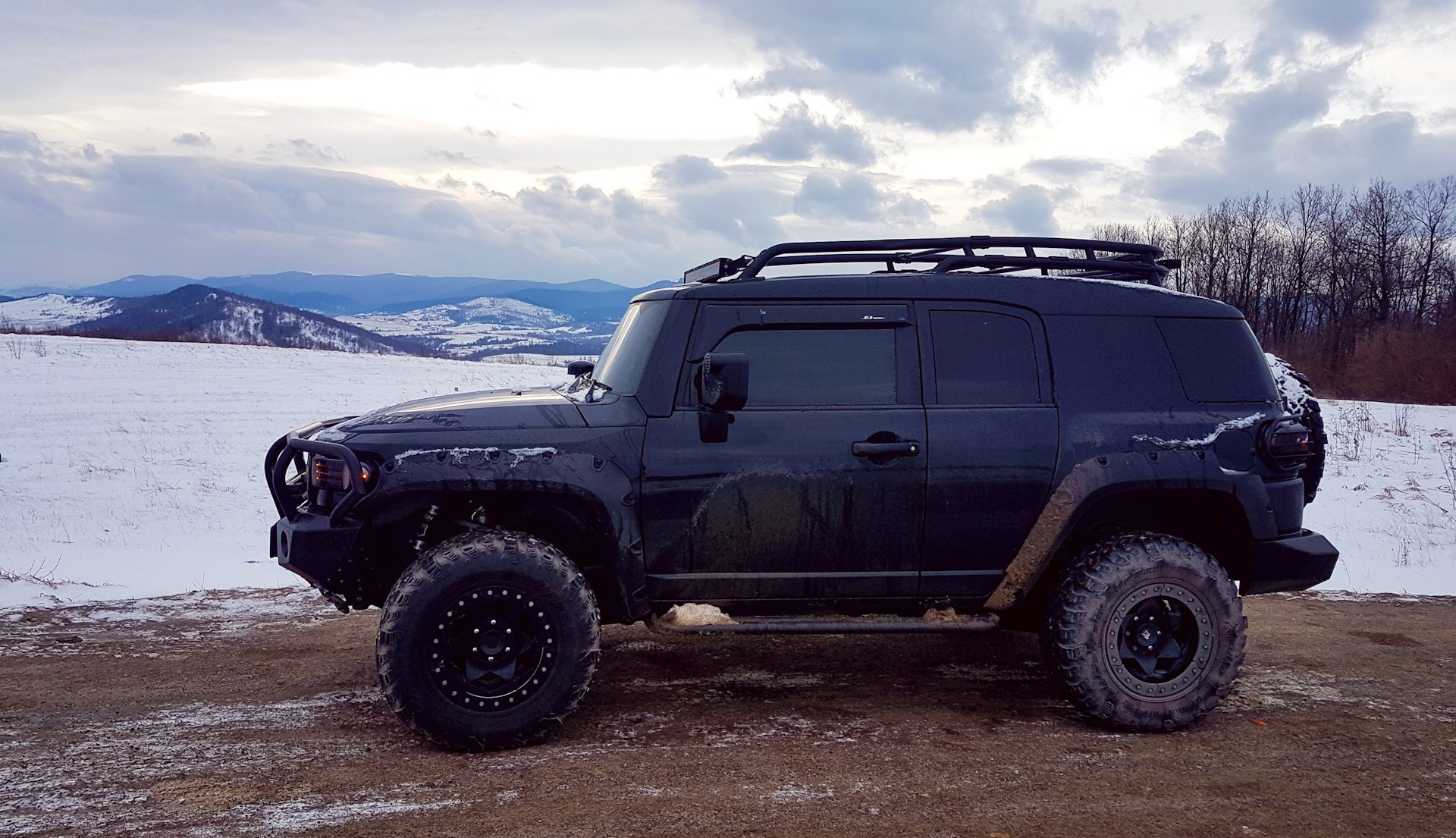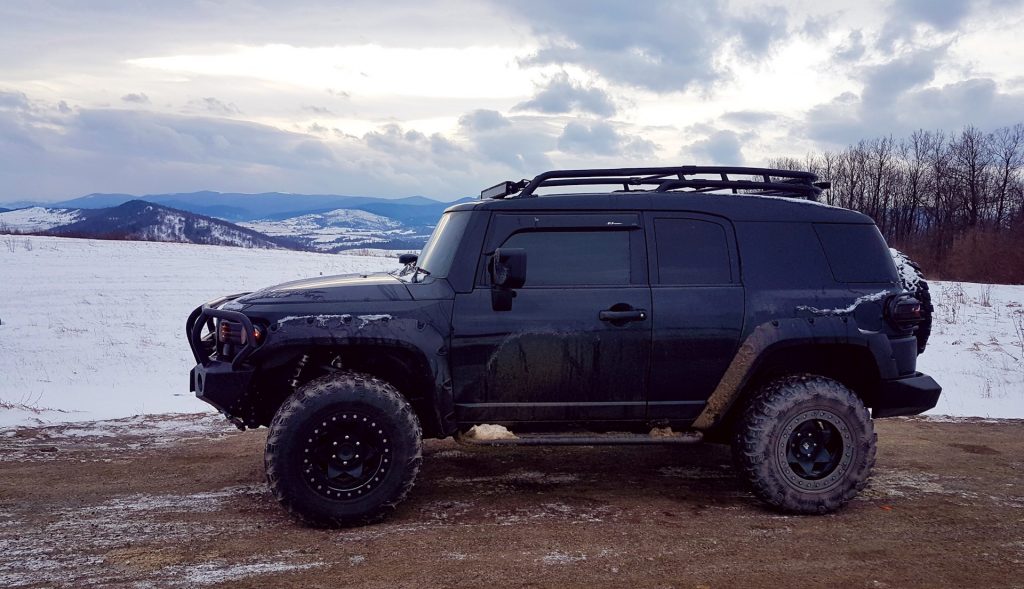 ---
FAQs
What is the difference between running boards and side steps?
Running boards and side steps are often used interchangeably. However, there are some noticeable differences between the two. Running boards generally are mounted flush on the rocker panel, with no gap exposed where side steps will have a gap between the step and the vehicle's body. Generally, this gap is about two inches.
What is the point of side steps?
Side steps provide a place to step when getting into a vehicle. They work best on larger automobiles, such as an SUV or pickup. Some individuals will place them on smaller SUVs as they add an aesthetic value.
What is the purpose of nerf bars on an SUV?
Nerf bars are installed on SUVs to protect them from flying rocks or other road debris that may chip the paint on your vehicle. These nerf bars will protect the doors and side panels of your car by not allowing the rocks through.
Can rock sliders be used as steps?
Rock sliders are designed to protect the sides of a vehicle from damage when off-roading, and they are typically intended to be used as steps. Rock sliders are usually made of heavy-duty materials such as steel or aluminum, and they are attached to the frame of the vehicle for added strength.
---
Related Reviews:
Best Shock Absorbers and Lift Kit for Toyota FJ Cruiser
Best Steel Front Bumper for Toyota FJ Cruiser