We may earn revenue from the products available on this page and participate in affiliate programs.
The Toyota FJ Cruiser is known not only for its distinctive retro appearance but also for its toughness, reliability, durability, and low-maintenance nature. However, if you plan to drive on rough terrain with poor road conditions, your factory front bumper will be vulnerable to impact from branches, trees, and rocks, and can quickly deteriorate.
If you're planning to tackle rough terrain with your Toyota FJ Cruiser, it's important to upgrade your stock bumper to a more durable and robust steel bumper. A high-quality front bumper not only provides better protection against impacts from rocks, trees, and branches, but it also enhances the overall appearance of your vehicle. That's why it's essential to choose the best off-road front bumper for your Toyota FJ Cruiser.
Benefits of the steel off-road bumper:
Protection of the front of the car in collisions
Passenger safety
Product certificate
Winch and additional lights installation option
Improved geometric cross-country ability
Possible disadvantages:
Reduced drivability of the vehicle
All of these front bumpers will not only look amazing on your SUV but will fulfill a sinister look. We hope that you find the best off-road bumper at a price that works for you.
We understand that finding bumpers at a reasonable price for your SUV can be challenging, especially if you don't know much about vehicles. That's why we've done all the work for you and found the top 3 best off-road front bumpers for your Toyota FJ Cruiser.
---
#1. Warrior – Custom Front Bumper for Toyota FJ Cruiser
Best Choice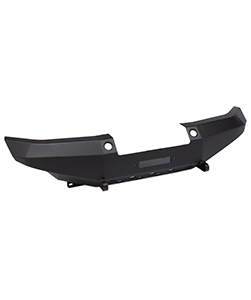 Warrior - Best Off-Road Front Bumper
Warrior - Front Winch Bumper
A durable front bumper that has a rugged construction which allows you to ride in style. Looks great on the truck.
Read More Reviews
The best custom front bumper for Toyota FJ Cruiser is made by Warrior. Their front bumper is designed to fit models from 2007 to 2014 and can accommodate winches in the 8,000 to 10,000-pound range. It is built to be durable and rugged, and comes with or without built-in winch mounts.
The bumper is very durable, coated with a black powder-coat for extra strength. High-quality steel is used in the construction of these Warrior bumpers.
Features
Powder-coated steel
D-Ring Mounts
Built-in winch mounts
Easy two-person installation
Pros
Good deal for the money
Easy to install
Fits tightly
May need two people to install
High-quality fabrication
Excellent craftsmanship
Cons
Instructions are tough to follow as there are not any diagrams and only have small images
Any imperfection in the installation will stick out
The D-ring mounting points may not fit 3/4″ shackles
#2. ARB – Toyota FJ Cruiser Winch Compatible Front Bumper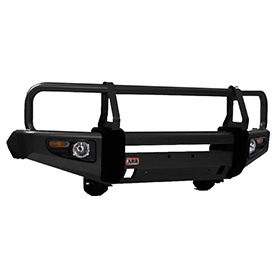 The ARB steel bumper for Toyota FJ Cruiser is equipped with various features that provide a sense of security while traveling. This front bumper not only serves a practical purpose but also offers protection and integration. The company has been producing parts for four decades and provides a five-year, unlimited warranty on their products.
This front bumper is constructed for durable steel which provides maximum protection. It is an airbag approved and retains factory tow points.
The recessed parking lights and indicators on this model will provide protection from branches and any other road debris you encounter.
Features
Contains a fully engineered mounting system
CB antenna provisions
Compatible with a wide range of Warn winch models
Recovery points with hi-lift jacking
Split fan design which allows excellent airflow and great strength
Tapered wing design with a five-fold upsweep
Recessed parking lights and indicators
Pros
Heavy duty
Great price tag
Simple bolt-on installation
Cons
Instructions are very poor
Does not have any D-mounts
#3. Smittybilt – Toyota FJ Cruiser Steel Front Bumper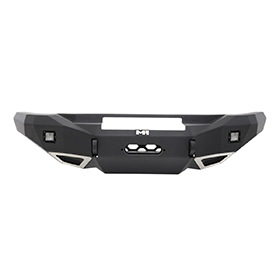 Smittybilt offers a sturdy and reliable steel front bumper for the Toyota FJ Cruiser that features solid D-mount rings that are welded on both the inside and outside. This ensures maximum strength and durability, making it an ideal choice for off-road enthusiasts who need a bumper that can handle rugged terrain and heavy use. Additionally, the bumper is coated with a black powder finish to prevent rust and corrosion, ensuring a long lifespan.
One great thing about all Smittybuilt products is that they are covered by their advantage warranty.
This off-road bumper was produced from 3/16 & 1/4 cold roll steel and fits all Toyota FJ Cruiser models. Installation does not require any drilling.
Features
Bright fog lights and driving lights
Solid D-mount rings
Power-coated with Smittybilt's two-stage matte black finish
Winch mounting system can hold up to a 16,500-pound winch
Has a solid center plate section
Pros
Heavy duty and of high quality
Reasonably bright driving lights for their size
Very sturdy
Cons
Instructions could stand to be better
Driving lights are not waterproof
Two-person installation
Bolts are in an odd location so it makes tightening them hard
Conclusion
We believe you will now be able to make an informed decision on which off-road bumper will be the best for you. The Warrior Front Bumper is a durable bumper that can provide you with a great off-roading experience. While having a decent price tag, this bumper fits tightly and has a rugged construction that sets your car apart for everyone else.
---
Video: How To Install Front Off-Road Bumper on Toyota FJ Cruiser
---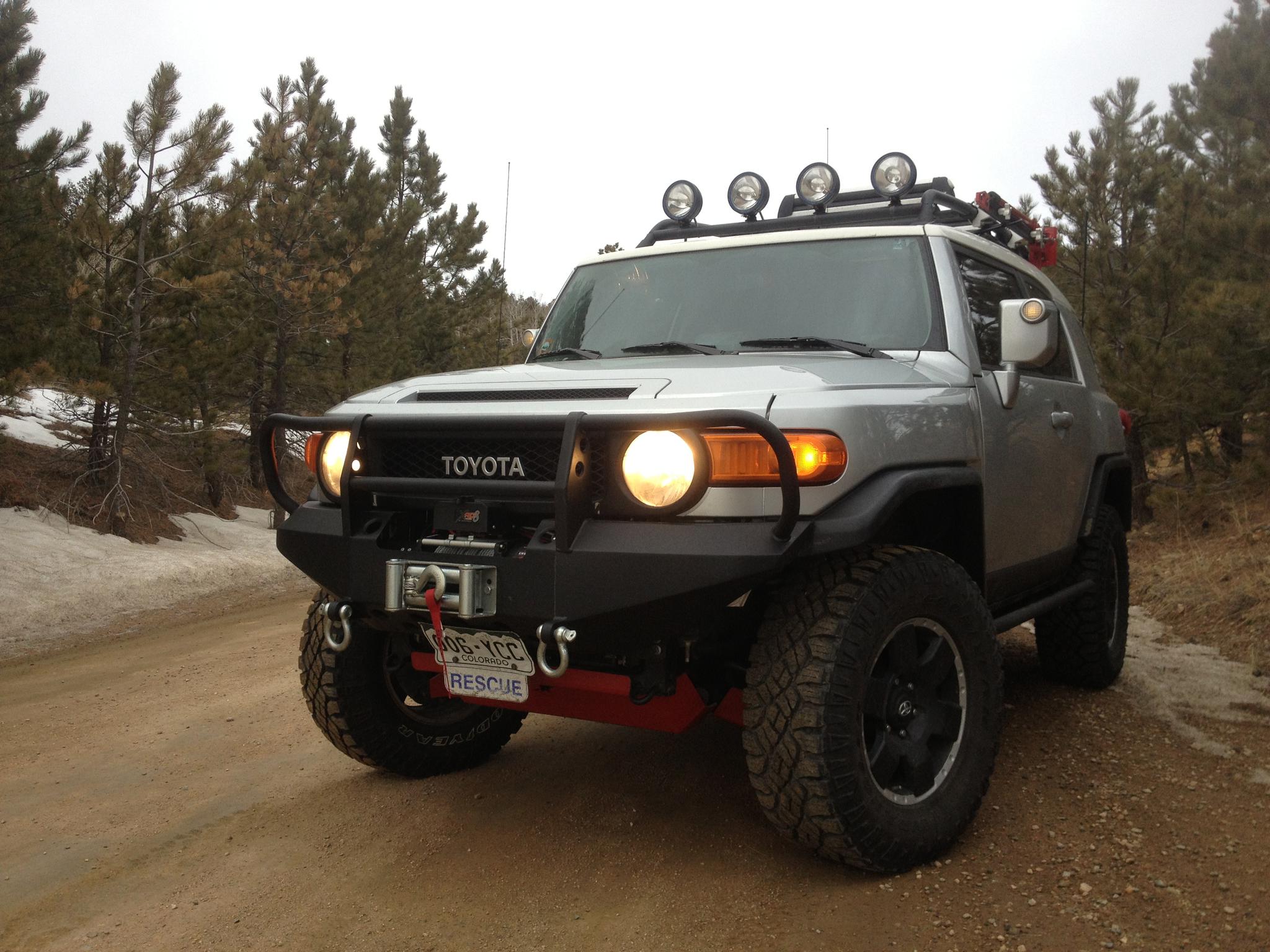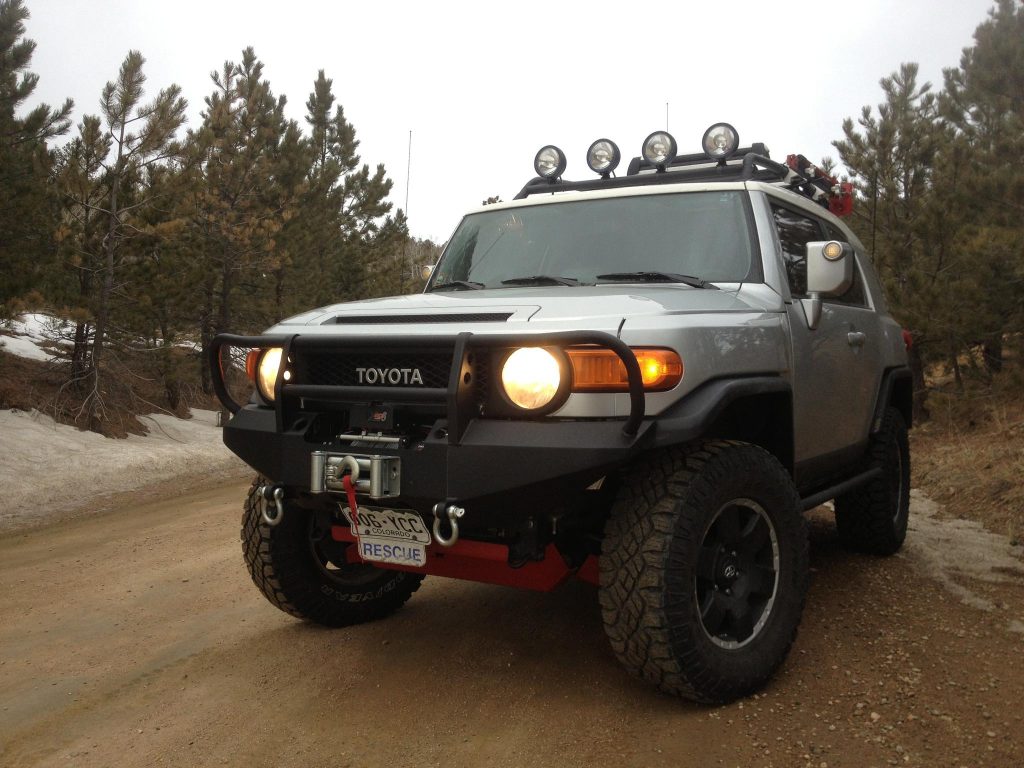 ---
Are off-road bumpers worth it?
More than likely, the factory bumper your vehicle came with is not enough to protect it. Off-road bumpers provide your vehicle with improved off-roading capabilities. This modification adds a sense of style to your SUV.
Vital components like your headlights and radiator are protected when you install an off-road bumper. They will also help to protect the viscous fan, which is crucial if you hit a deer or other animal. Without this protection, your car can start leaking coolants. This will cause it to overheat, which can cause more damage.
What materials are off-road bumpers made of?
Off-road bumpers are constructed from steel. The steel used is in different grades or types depending on the company. Commonly used are stainless steel and carbon steel. Manufacturers use steel because it is durable and strong. It can withstand much more impact than other materials, such as the standard fiberglass, plastic, and lightweight metal most vehicles have on them.
While steel can be dented or damaged, it does a much better job of protecting your off-road vehicle. When picking an off-road bumper, you should look at how you will be using your SUV to determine which weight is best for your vehicle.
---
Related Reviews:
Best Shock Absorbers and Lift Kit for Toyota FJ Cruiser