We may earn revenue from the products available on this page and participate in affiliate programs.
The steel rear bumper is an essential attribute of any off-road vehicle for travel. In addition to the functions of protecting the car from unexpected obstacles, it is equipped with special places for installing a hi-jack, which allows you to comfortably and safely lift your car.
The main advantages of the power rear bumper is the angle of approach. It is much bigger on the power bumper than on the regular bumper. In addition, the shape is designed in such a way that allows you to pass all objects under the wheels, without bumping the bumper.
If you will happen to drive into a small fallen tree or a stone, you can be sure that it will go under the wheel and not bump into the bottom of your stock bumper. Off-road car bumpers are made from shatterproof materials.
Rear off-road bumper materials can be as follows:
Steel. Steel is an incredibly strong material that has, compared to some other metals, little susceptibility to corrosion.
Aluminum. The material is lighter than steel but inferior to it in strength. Another disadvantage of aluminum bumpers is their high price.
If you are on the market for an off-road rear bumper for your Toyota FJ Cruiser, you will want to be sure to do your research on them. Unfortunately, all off-road rear bumpers are not created equally. It can be hard to know if you are getting the best deal or not for what features these rear bumpers offer.
Here we have compiled a shortlist of three of the best off-road rear bumpers for Toyota FJ Cruiser. While we know that it is not always an easy task to take on, we have done the hard work for you. The following are three of the best off-road rear bumpers for Toyota FJ Cruiser that are affordable and durable for your beloved 4 wheel drive.
---
#1. Smittybilt – Toyota FJ Cruiser Rear Off-Road Bumper
Best Choice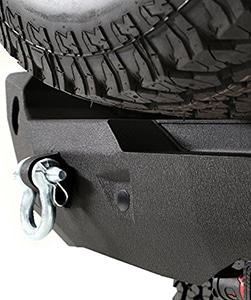 Smittybilt - Best Rear Off-Road Bumper
Rear Trunk Bumper for Toyota FJ Cruiser
Beef up your Toyota FJ Cruiser with this heavy-duty steel rear bumper that is sure to attract the attention of others.
Read More Reviews
Smittybuilt is our pick for the best rear bumper. This off-road bumper features very bright driving and fog lights. The solid mount D-Rings weld on both the inside and the outside.
This off-road steel rear bumper will fit 2007-2014 Toyota FJ Cruiser. It has a high-quality textured coating. This off-road bumper has a lifetime warranty.
Features
Constructed from 3/16 inch cold rolled steel with 1/4 inch mounting plates
Powder-coated in Smittybilt's two-part matte black finish
Comes standard with 7/8 inch solid D ring mounts
The winch mounting system can hold up to a 16,500-pound winch
Class III 10,000 lb rated receiver hitch
Pros
Easy installation process
Heavy-duty bumper
Well worth the money
Will make heads turn
Requires no drilling
#2. Body Armor – Toyota FJ Cruiser Steel Rear Bumper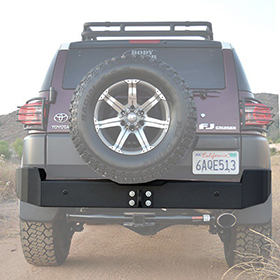 The Body Armor rear bumper features a dual-coated powder coat finish to give it a textured look. This off-road bumper is for 2007-2014 Toyota FJ Cruiser.
The center of the Body Armor is notched to accommodate clearance for a 35" tall tire when it is installed to the OEM tire mount. This bumper was constructed to provide the best protection no matter if you are on a trail, out on the highway, or cruising through town.
Features
Easy installation due to the 3 piece design
Steel plate construction (5mm thick)
Constructed from 3/16" cold rolled steel plate
Pre-drilled for the backup sensors
Simple bolt-on installation
Pros
The finished product looks sharp once installed
Tough and durable
Decently priced
Large step area to have greater access to the roof rack
Is constructed to be compatible with aftermarket tow hitches
Cons
The OEM hitch isn't compatible with the Body Armor rear bumper
#3. ARB – Off-Road Bumper for Toyota FJ Cruiser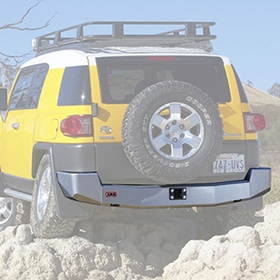 The ARB off-road rear bumper offers good protection of your car. Backed by a two-year warranty, this steel off-road rear bumper is custom-designed to fit your Toyota FJ Cruiser. The construction of this off-road steel bumper is super solid. In the event of a rear collision, there is excellent protection.
The black powder-coated finishes give it a rugged look that can withstand any element. This can also be color-coded to your vehicle if you so desire. To tow with your SUV, you can use it in combination with the ARB tow hitch.
Minor drilling may be needed for installation, however, instructions are straightforward. It is designed to fit with Toyota FJ Cruiser models 2007-2014.
Features
Constructed for steel for both durability and strength
Powder-coated finish to help it withstand any element
Holes are provided for the factory back up sensors
Off-road terrain can be optimized with departure angles
Comes with a D-ring recovery point
Pros
Comes with a 2-year warranty
Offers maximum rear protection
Contain the most well-engineered mounting
Great lines
Cons
Will not fit factory hitches
Weighs more than most bumpers do
There are not any swing-out options
Conclusion
Off-road rear bumpers that are rugged will help better protect your Toyota FJ Cruiser while you are out on the trails. They will provide you with a safer off-road experience. It is not difficult to choose a best off-road rear bumper for your car. It is enough to clarify the compatibility with the vehicle and buy a part for your money.
We truly feel you will now be able to make an educated decision on which off-road rear bumper is for you. The Smittybuilt rear bumper for Toyota FJ Cruiser is our top pick as this bumper is easy to install and well worth the money.
---
Video: How To Install Rear Off-Road Bumper on Toyota FJ Cruiser
---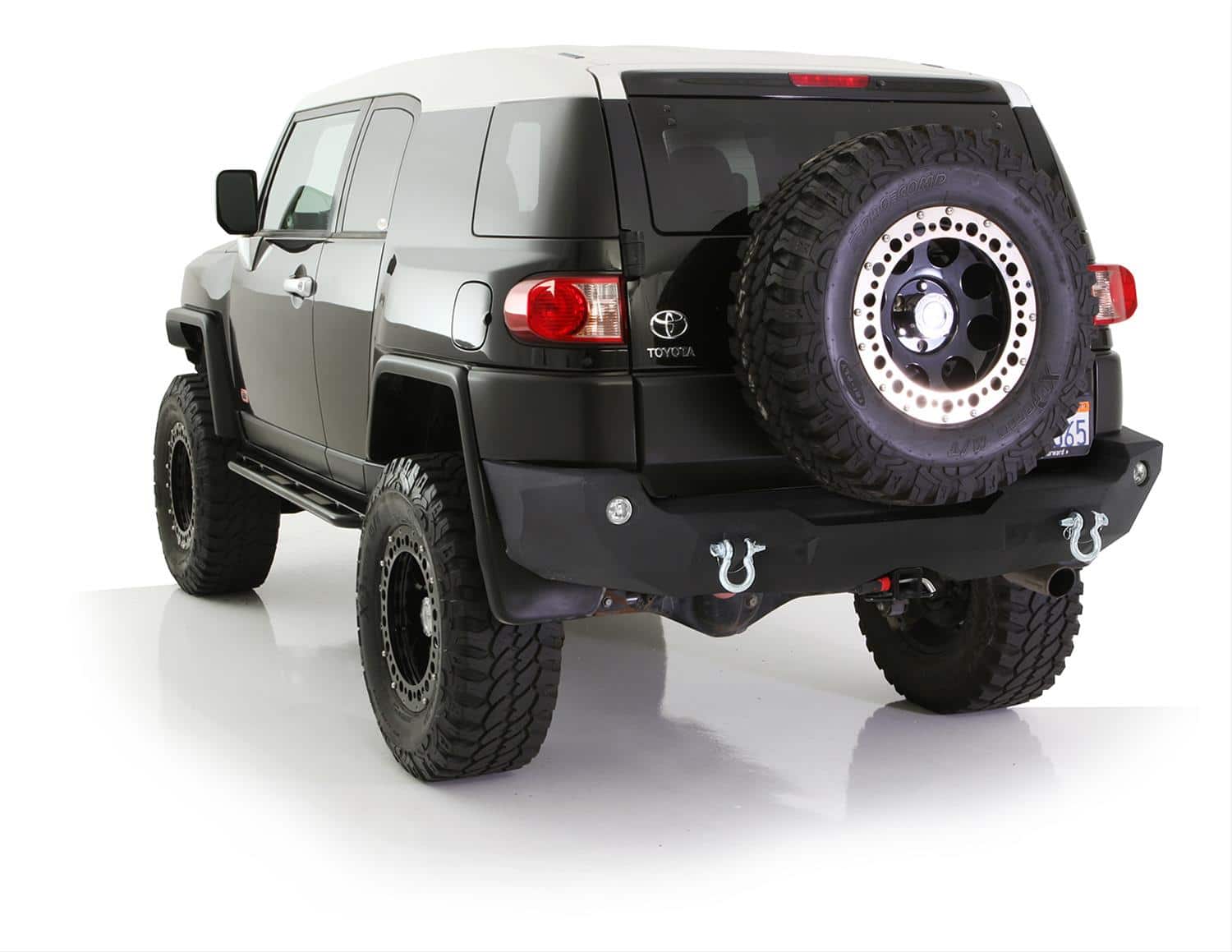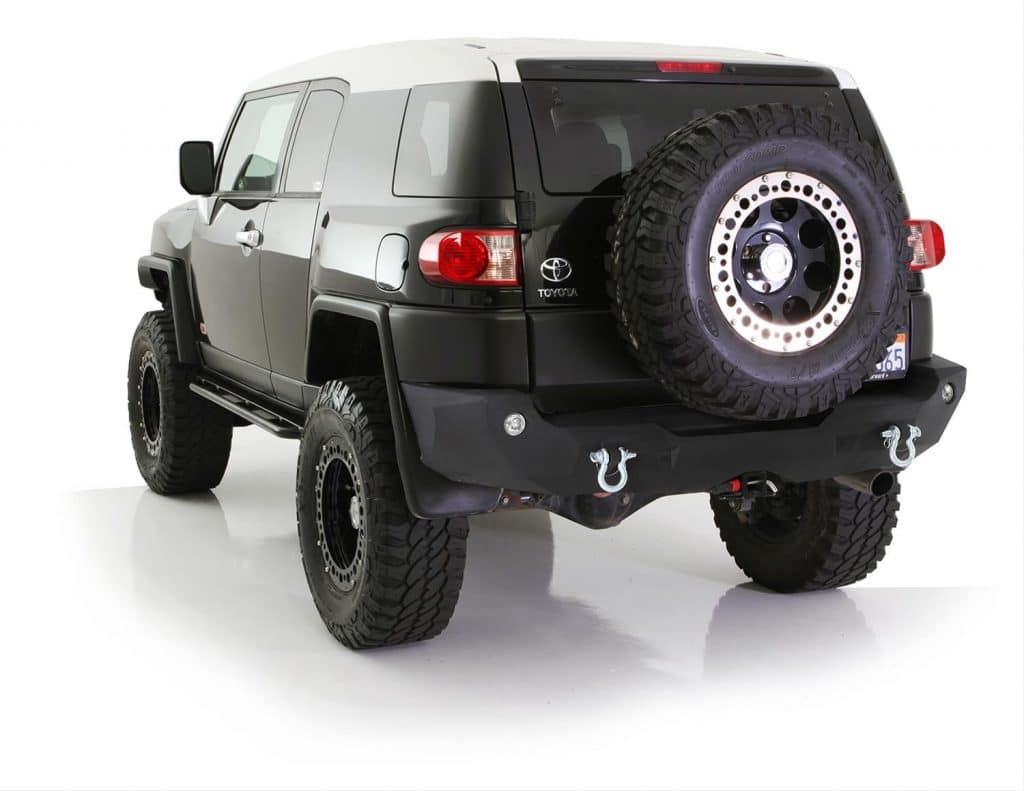 ---
FAQs
How much do the off-road bumpers weigh?
On average, an off-road bumper will weigh between 50 to 130 pounds. Your truck must be able to fully support the weight through the dampers and suspension. If these two can not support the weight, the nose of your Toyota FJ Cruiser will sag about ½ to 2 inches.
You must also take into consideration other accessories that you wish to add, such as a winch or spotlight. Any of these things will add to the weight, which could cause your SUV to sag even more. If there is a lot of weight upfront, the undercarriage can be damaged.
You might also notice that the shocks and springs go out sooner in your car when there is extra weight up in the front. You should also keep in mind that if you have extra weight on your Toyota FJ, and the front end sags, it will affect your driving and its performance. Gas mileage will not be as good. You may also notice braking is affected if there is too much weight.
Taking corners can also have a negative impact. Some even state that steering is harder. Various vehicles are much harder to handle when the weight is not within the recommended limits.
Do I have to drill into my frame to install an off-road bumper?
No, you do not need to drill into every off-road bumper. Some of the bumpers that are on the market today feature simple bolt-on assembly. There are other rear bumpers that only require minor drilling.
---
Also Read:
Best Shock Absorbers and Lift Kit for Toyota FJ Cruiser
Best Steel Front Bumper Options for Toyota FJ Cruiser