We may earn revenue from the products available on this page and participate in affiliate programs.
The Toyota FJ Cruiser's interior is a major reason why this vehicle has gained a dedicated following. Some drivers appreciate its truck-like feel, while others are drawn to its retro or military-inspired aesthetic. Regardless of personal preference, the FJ Cruiser's interior is undeniably comfortable and ergonomic. However, like any vehicle interior, it could benefit from some key upgrades, such as floor mats and storage organizers to keep things tidy and convenient.
Car mats are a simple and effective way to upgrade your vehicle's interior. When selecting mats for your cabin or trunk, it's best to choose products designed specifically for your car model. These mats are designed to perfectly match the contours of your vehicle, whereas universal mats often require adjustment. Rubber mats are a popular choice because they are durable, moisture-resistant, and require minimal upkeep. However, carpet mats offer a more visually appealing option but require more care to maintain their appearance. Ultimately, the choice between rubber and carpet mats comes down to personal preference and intended use.
If you're an owner of the Toyota FJ Cruiser, you likely appreciate the vehicle's easy-to-clean interior. Unlike traditional floor mats, the FJ Cruiser features a durable rubber floor that can be sprayed down with a hose (although it's not recommended by the manufacturer). However, if you've been using your FJ Cruiser for several years or have just become the owner of this popular model, you may need to invest in new floor mats to keep your vehicle's interior looking sharp. Fortunately, there are plenty of high-quality options available that are designed specifically for the FJ Cruiser and will help protect your flooring from wear and tear.
Floor mats are an essential accessory for any vehicle owner looking to protect their interior from dirt and moisture. If you're committed to maintaining your car's appearance and ensuring maximum driving comfort, high-quality floor mats are a must-have. At our store, we've curated a selection of top-tier floor mats and put each product through rigorous testing to ensure its quality and durability. Whether you're seeking a custom fit or universal design, rubber or carpet materials, we've got you covered with our extensive collection of floor mats.
It's important to recognize that the type of floor mats you choose for your Toyota FJ Cruiser should be based on your unique driving needs and conditions. For example, some drivers use their FJ Cruiser as an everyday vehicle, while others take it off-road. Similarly, certain regions may experience heavy snow and rain, while others have milder climates.
To help you make an informed decision about which floor mats are right for your FJ Cruiser, we've conducted a thorough comparative analysis based on our extensive experience driving this vehicle in a variety of conditions. Whether you need mats that are moisture-resistant, durable, or easy to clean, our analysis will help you select the best option for your needs.
#1. WeatherTech – All Weather Floor Mats for Toyota FJ Cruiser
Best Choice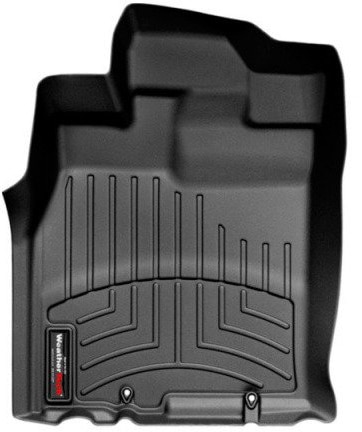 WeatherTech - Custom Fit Front FloorLiner
The best floor mats for all weather conditions
Made of high-quality material. These mats have high sides and protect all possible places where moisture, snow or dirt can get in.
Read More Reviews
After extensive testing and evaluation, we can confidently recommend these floor mats as the best choice for Toyota FJ Cruiser owners, even in the most extreme conditions. These mats are designed to fit your vehicle's interior perfectly, providing optimal protection against snow, dirt, and other debris. The high-quality materials used in their construction ensure that they maintain their properties and appearance over an extended period of time, making them a wise investment for any FJ Cruiser owner.
#2. Rugged Ridge – Floor Liner for Toyota FJ Cruiser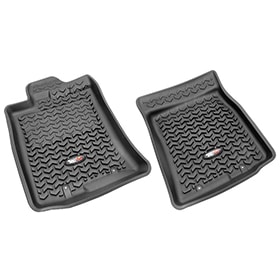 These floor mats have excellent quality. We recommend buying it if the using conditions of your FJ are close to extreme. Perfect for everyday use and for off-road but if you go there not too often.
#3. Toyota FJ Cruiser All-Weather Floor Mat (OEM) – Floor Mats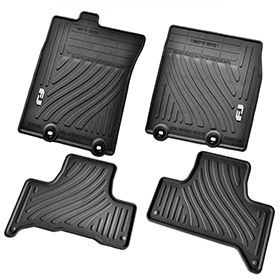 Good choice if you use your Toyota FJ Cruiser every day and sometimes you go fishing or you like picnics in nature. They are easy to clean and do not lose their quality for a very long time. Rear floor mats are included!
#4. Husky Liners – Rubber Floor Mats for Toyota FJ Cruiser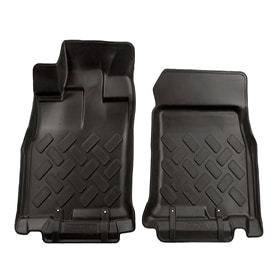 The pattern on the Husky Liners mat follows the original design of the FJ Cruiser's interior. These mats fit well and follow the curves of your car's interior space. These floor mats have durable material and good shape.
#5. Toyota FJ Cruiser Carpet Floor Mat (OEM) – Summer Floor Mats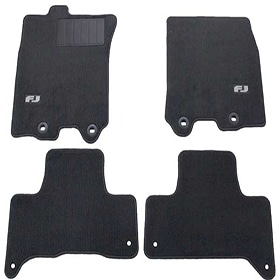 Good and original OEM floor mats for the summer. We recommend choosing them if you do not have snow and rain in your region or only for the summer. It is also not suitable for those who like to go off-road. Rear floor mats are included!
Conclusion
Based on our experience, the best all-weather floor mats that you can buy now, are WeatherTech – FloorLiner. If you don't drive off-road frequently, then choose Toyota OEM floor mats. You can't make a mistake if you choose floor mats from our top depending on how you use your car. Don't forget to buy original clips for the floor mats to set them up.
Toyota FJ Cruiser Cargo Mat
When it comes to selecting a cargo liner for your Toyota FJ Cruiser, there are a few key factors to keep in mind. First and foremost, the liner should be crafted from highly resistant rubber coating that provides superior protection against dirt and water. Additionally, the liner should feature a special relief that helps contain water and prevent leaks.
Other key characteristics to look for in a trunk mat include high durability, ease of cleaning, the ability to maintain flexibility in all temperature conditions, and resistance to deformation from regular use. By choosing a cargo liner with these features, you can help ensure that your FJ Cruiser's interior stays clean and protected, no matter where your travels take you.
#1. Toyota OEM – Cargo Liner for Toyota FJ Cruiser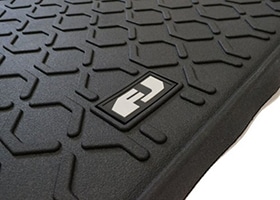 After extensive experience and testing, we highly recommend the OEM cargo mat from Toyota for your FJ Cruiser. This mat features a pattern that perfectly matches your car's interior design, providing a sleek and uniform look. The high-quality material used in its construction is easy to clean and retains its properties even after years of use.
Additionally, the mat has a perfect shape that fits your vehicle's cargo area precisely, complete with pre-made holes for luggage loops. With its anti-slip properties, the Toyota OEM cargo mat offers reliable protection against dirt and moisture, ensuring that your FJ Cruiser stays clean and well-maintained for years to come.
#2. Rugged Ridge – Cargo Mat for Toyota FJ Cruiser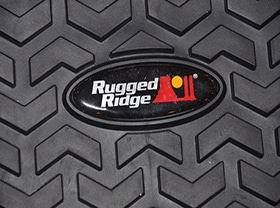 This cargo mat covers the entire surface of the trunk. Made of elastic material, it has high sides that are made to hold liquid. It doesn't have ready-made holes for luggage loops but you can make them if necessary.
#3. WeatherTech – Cargo Fit Liners for Toyota FJ Cruiser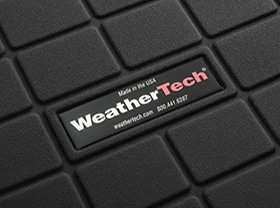 Cargo liner material has excellent quality and boards that will save you from leaking. Not the entire surface of the trunk is covered with a mat. It doesn't have ready-made holes for luggage loops but you can make them if necessary.
Conclusion
Based on our experience, the best all-weather cargo liner that you can buy now, are Toyota – All Weather Cargo Mat. This purchase will have a good price-quality ratio.
---
Everything You Need To Know Before Buying Floor Mats For Your Toyota Fj Cruiser
The car floor mats are a necessary accessory in the car. Without it, the floor will get dirty and the underside of the car will start to suffer from corrosion. Below we will give you a complete answer to the question of what floor mats in the car are better. We will enumerate the selection criteria that you should take into account before buying.
How to choose floor mats for the car?
The material of the mats
At the moment, the most popular are two materials for the manufacturing of car mats: textile and rubber (special plastic). They differ significantly from each other, and their properties affect many characteristics of the final products.
Textile car mats
Textile is a synthetic material that is made from flexible and soft fibers. In the case of car mats, textile necessarily has a standard rubber base.
Textile mats consist of three layers:
Upper pile
the middle layer, which acts as a waterproofing, and thermal insulation, as well as giving the carpet volume
The bottom antiskid
Textile car floor mats have many advantages:
Provide comfort in the cabin. This is the main advantage of textile mats over rubber mats. They create a pleasant feeling of comfort in the car. Such products look presentable. They are most often found inside expensive cars and indicate the good taste of their owners. Textile mats show resistance to temperature extremes. Textile car mats can withstand both low and high temperatures, as well as their sudden changes. They do not melt in the sun and remain soft even in the most severe frost.
They are easy to take out. A textile car mat can be easily and quickly taken out of the car and put in order. This favorably distinguishes such a product from other varieties of car mats, which are fixed in the cabin and therefore have certain difficulties with dismantling.
They are characterized by ease of operation. You do not even need special means to take care of the textile floor mats. You can apply dry cleaning with a brush and vacuum cleaner, as well as wet cleaning, which is to remove dirt with a stream of water under pressure.
Certainly, textile car mats have their disadvantages. The main one is that they are not able to absorb too much water. In particular, in winter, such products can leak due to the abundance of snow, which gets into the cabin with the driver and his passengers. Separately, it is worth noting the fact that textile car mats do not dry out quickly.
Rubber and Plastic Car Mats
Rubber and plastic are traditional materials for making car floor mats. Rubber and plastic car mats have several outstanding advantages. Among them:
The ability to protect the interior from dirt and water. Such floor mats do a good job in their main task of keeping the floor in the car dry and clean.
Ease of cleaning. To clean rubber or plastic car mat of dirt, it is enough to wash it with plain water from a bucket or hose. The mat will quickly dry and resume its primary protective function.
Rubber and plastic floor mats also have disadvantages. Such products do not allow water and dirt to penetrate the floor, but they also do not absorb it. All dirt and moisture accumulate on the surface of the car mat, that is, right under the feet of the driver or his passengers.
Also, some rubber car floor mats do not endure frost. They simply "harden" at low temperatures. As a result, the surface of such products becomes slippery and unsafe. In addition, some rubber car mats start cracking under severe temperature changes, that is, they can't boast particular durability in use.
Car owners note that moisture, which accumulates on the surface of rubber and plastic floor mats, does not evaporate for a long time. Because of this, in winter, the car windows start to get very foggy. Sometimes they are even covered with frost because of the lack of evaporation.
---
Video: How To Install the Floor Mat Hooks for Toyota FJ Cruiser
---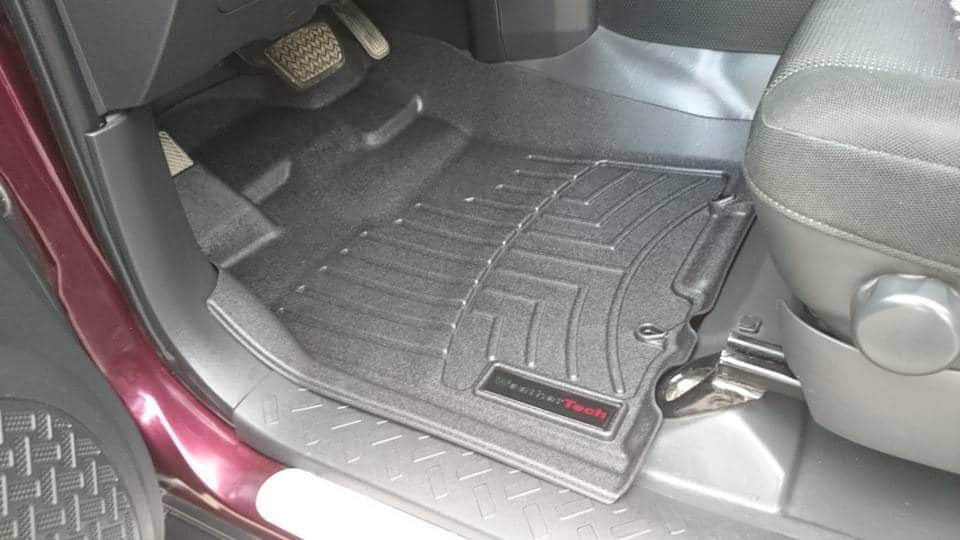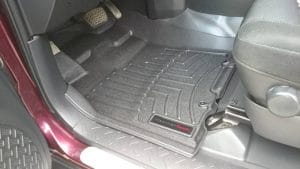 ---
FAQs
Are these floor mats suitable for different model years of Toyota FJ Cruiser?
Yes, all floor mats are suitable for models of 07-14.
Are clips for floor mats included?
No, they must be purchased separately.
Are these floor mats suitable for vehicles with a manual transmission?
Yes, all floor mats for the Toyota FJ Cruiser are universal. Suitable for automatic and manual transmission.
Is the cargo mat slippery or not? Things will slide on it?
The coating on the cargo mat is non-slip, plus it has a special texture. Some cargo, if not secured, can move. To prevent this, you can use special hooks and a cargo net.
Are all weather mats good?
All-weather (all seasons) mats offer max protection. Rubber or plastic floor mats are good for all-weather protection because they are tough enough to keep mud and snow off your floor.
---
Also Read: