We may earn revenue from the products available on this page and participate in affiliate programs.
I know a lot of Toyota FJ Cruiser owners, but I don't know a single one who hasn't upgraded anything on their car. My wife says the Toyota FJ Cruiser is a LEGO for big kids:)
The main problem for the headlights of all "short" SUVs, is blinding oncoming cars when the car is fully loaded with passengers or cargo. Therefore, there is an urgent need for constant light level correction. The FJ Cruiser is not equipped for the U.S. market with electric headlight adjusters.
Even reinforced springs are not able to correct the situation. Knowing it, many owners drive with headlights on the floor, that is they make the level of the dipped beam a little bit lower than is required for safe driving. But you can change your OEM headlights and save yourself the problems.
Have you replaced your old and worn-out headlights yet? Or are you still on the fence about it? Are you confused about where to look and whom to ask? Is it the first time you are about to do so? No matter what's the case, there's no need to worry. Because we have got you covered with the best Toyota FJ Cruiser headlights on the list.
The headlights are one of the most important parts of your vehicle. Since you don't comprise on anything when it comes to your car. Then why buy anything that anybody suggests? Do your research and make your own decision about what's right for you and your Toyota FJ Cruiser headlights.
Having a bright headlight can help you in safe long night drives in the dark. And provide you safety in da daytime with difficult, smoky, and blur weather. So to increase your chances of having a smooth drive along with your family and friends. You might want to go with the best Toyota FJ Cruiser headlights out there.
Not to mention that a headlight adds to your car's impression on others. Since a luxury car will never have a yellow light projecting through its front headlights. Similarly, your car can be seen differently by the choice you make regarding your headlights for your FJ. So let's make it count by selecting the best you can have.
We know that choosing the best headlights for Toyota FJ Cruiser is not a piece of the pie. And the various options out there only make it more confusing, rather than helping you to select the best one for you. But since our readers are, and always have been, our utmost priority. That's why we have done our thorough homework to get you one step closer to your best FJ Cruiser tuning headlights. Using the detailed comparison table below, you can get all the ins and outs of the top-ranked products without any hassle.
---
#1. DNA Motoring – Plug and Play Toyota FJ Cruiser Headlights
Best Choice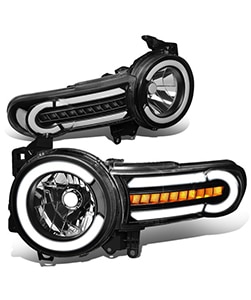 DNA Motoring
Best Plug and Play Headlights for Toyota FJ Cruiser
Experience a great drive, with DNA Motoring headlights, which brighten your road to clear paths, despite the bad weather.
Read More Reviews
DNA Motoring is the renowned maker of headlights, which always maintains high competitiveness with enhanced features. They provide superior quality with reliable and satisfactory durability to their headlights. Plus they modify your car's design.
The housing is classic black, with clear corners of edges. The smoked lens design makes your vehicle's outlook fancy and luxurious. The sequential 3D light bar style comes with the signal chasing trait. The reflector beam-type has an H4 high to low beam function. The color of light is White or Amber, which needs wiring to get attached to the system. The mounting screw present inside the housing helps with any further adjustments.
We found that the only two problems were that the bulbs are missing and nowhere to be found in the packaging. Secondly, the wiring is reversed to the power with the black and white wires between the lamp and the indicator, which is quite a hassle.
Despite the negatives, it is a great choice to go with if you want to replace your vehicle's worn-out and old headlights.
Features
Installation: easy plug and play
Color: Black/ Smoky
Compatible with Xenon/HID: No
Type of bulb: H4 9003 High/Low beam
Light source: Halogen
Fitment: 2007- 2014 Toyota FJ Cruiser
Package include: 1 pair of headlights, 1 pair of signal lights
Position: Front
Pros
Needs no drilling or further improvements
Ready to use after buying
The smoky lens gives a great outlook to the vehicle
The LEDs are constructed with factory DRLs lumens quality
Cons
Bulbs not included
No installation guide was provided
#2. AJP Distributors – Toyota FJ Cruiser DRL Headlights
The AJP Distributors are among the most well-known manufacturers of the DRL headlights for the Toyota FJ Cruiser. It has an amazing lens and reflector performance which ensures proper projection of lumens along the way. While the reasonable price is a cherry on top.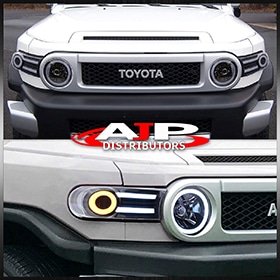 Their DRL headlights are well-built with great delivery of effortless performance. Its modern outlook increases the physical appearance of your car, making it more extraordinary. Apart from the style, it also offers great durability with high quality.
The black housing gives a classic outlook to the design. The headlights have a reflector with the White or Amber color of light projection. The LED light bar successively performs signal-chasing. While it needs wiring to attach the running LED light strip. The smoked lens is designed in a special way to distribute LED light thoroughly. Behind the lens, it uses a high and low beam system of bulb type.
Features
Installation: Quick and easy
Color: Black
Compatible with Xenon/HID: No
Type of bulb: LED
Light source: Halogen (H7)
Fitment: 2007- 2014 FJ Cruiser
The package includes a complete set
Position: Front
Pros
Great alternative for simple headlights
Provides a clearer vision for long night drives
LED light projects brighter lumens on the way
Perfect sealing limits the moisture from getting captured inside the housing
Operates smoothly
Cons
No installation guides are available
Focusing on glare cap needs to be done manually
#3. Lsailon – Toyota FJ Cruiser RR-style Headlights and Grille
Lsailon's Range Rover style headlights are always adding style to the vehicle with their unique construction. Not only the quality and durability are assured, but on top of that, their headlights are comparatively reasonable in price. With great functionality, they offer to increase and brighter lumens.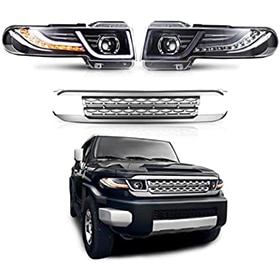 The projector headlights come with a Grille lamp, suitable for 07-14 FJ Cruiser. The enhanced color lightening trait of the LED light bar is white, while the turning light is yellow. The headlights are designed in a weather-proof manner to overcome harsh weather surroundings. The DRL LED lights have two dual-beam lenses for both high and low beams.
On the downside, the H7 bulb is not provided in the package kit. So you have to buy your own, with the harness. Secondly, once you buy the H7 bulb, it is a single beam bulb. Hence, you might lose the dual-beam function it.
Overall, it is an amazing choice. The style and modification it adds to your car is a complete head-turner.
Features
Installation: easy plug and play
Color: Black
Compatible with Xenon/HID: No
Type of bulb: LED
Light source: Halogen
Fitment: 2007- 2014 FJ Cruiser
Package includes: 2 LED Headlights and 1 Grille
Position: Front
Pros
Works for both cars and trucks
Turning light is yellow enables to have clear visibility in foggy weather
Bright lighting ensures protection
Housing is sealed to prevent dust from entering inside
#4. Spyder – Toyota FJ Cruiser Replacement Headlights
Spyder Auto deliver quality lights at affordable prices, along with performance assurance. Their lights are ISO authorized and OE certified, which satisfies the user's curiosity of reliability. Having an OEM (Original Equipment Manufacturer) fitment, they maintain their standards well.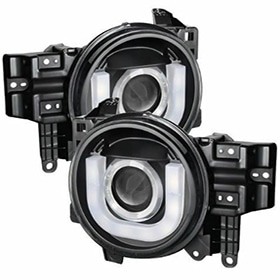 The housing is of attractive black color, which adds desirability to it. It further contains 14 projector headlights for light distribution. The included light source is of Halogen model-H7 only. The 3D DRL lights are of LED bulb type, which is a go-to light system these days.
The only two problems are that firstly not all the packages are delivered with light bulbs. Some do not include light bulbs; we suggest you apply the stock lights instead for installation. Plus, the installation guide is also not there. Secondly, the halogen bulbs are not effective. Until you wire the LED DRLs with a 12V source individually. After installing HIDs in them.
Note: The smoked lens is not legal for streets, and advised to limit it to showroom's use only.
Features
Installation: easy bolt-on
Color: Black
Compatible with Xenon/HID: No
Type of bulb: LED
Light source: Halogen (H7) only
Fitment: 2007- 2014 FJ Cruiser
The package includes a taillight kit
Position: Front
Pros
High-quality headlights distribute lights with better projectors
Cons
Installation guide not included
Halogen bulbs are not that bright
Conclusion
After going through this review, you are now well-informed about the FJ Cruiser aftermarket headlights. We wanted to make sure that out of all the numerous options out there, you get what you need since between a wide variety of choices, it can be hard to make up your mind. Hence, to make you empowered to choose the best tuning Toyota FJ headlights for you, the options mentioned above will surely assist you in the easiest yet constructive way. Happy hunting!
---
Video: How To Install Aftermarket Toyota FJ Cruiser Headlights
---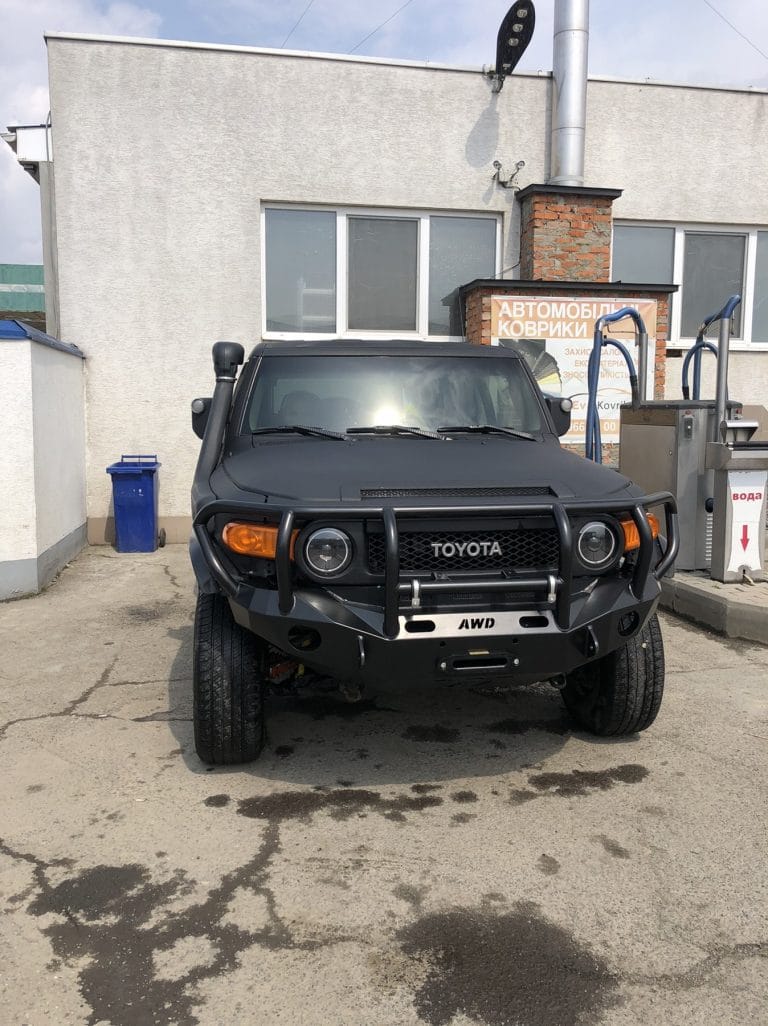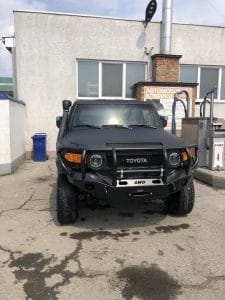 ---