We may earn revenue from the products available on this page and participate in affiliate programs.
The following reviews will focus on visual changes to the interior. What makes these accessories good is that installing them won't take more than 15 minutes, but interior appearance will change drastically. These are accessories that make using your car more enjoyable and comfortable.
Exterior tuning of the SUV allows you to turn the factory car into the real king of off-roading. Interior tuning, on the other hand, is aimed at providing maximum comfort, both in everyday life, as well as in travel or on multi-day expeditions. SUV interior tuning is a comprehensive refinement, during which new accessories are added – mats, storage boxes, climate shift buttons, or gearshift knobs are changed.
Cargo Net for Toyota FJ Cruiser
The trunk of the Toyota FJ Cruiser is very large and roomy. But some cargo during transportation may move from their seats. This can be prevented by an accessory such as a car trunk net. Thanks to the cargo net, the transported luggage can be separated or fixed in a certain position, which can help when driving on bad roads. The cargo net is an easy-to-install accessory that optimizes space and takes up little space when not in use.
Pros
Great storage solution
Keeps things organized
Rear Door Storage Net for Toyota FJ Cruiser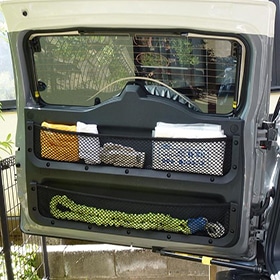 Probably all owners of FJ Cruisers have seen spaces on the rear door. If you install the original storage net you can use them to store small items. The storage net is equipped with all necessary mounts and installation instructions. Drilling holes is required for installation. The company promises that the installation is simple and will take you no more than 20 minutes. Only one storage net is included. Recommend!
Cargo Organizer Bag for Toyota FJ Cruiser
The organizer bag is designed for transportation and storage of car accessories, car chemicals, and tools. The size of the storage bag allows you to easily put everything you need in it. Using a bag for storage will not only avoid extraneous sounds when driving a car but also save the trunk space from damage by non-fixed items. We have used and tested a lot of cargo bags and selected the best ones.
#1. Cutequeen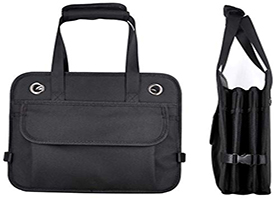 It's a comfortable bag, has a closing pocket, net side panels pockets and handy separation inside the bag that can be moved. Material is easy to clean. Large size: L30 x W14 x H13 inches, which can fit all accessories you need. It can be folded up to 4.75 inches. Straps are included so you can attach the organizer bag to the loops on the trunk floor.
#2. Fortem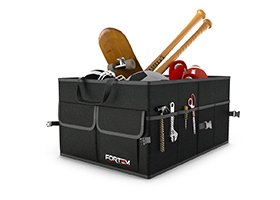 A good medium-sized cargo organizer box L21.5 x W16.00 x H10 inches. It has all the necessary functions, comfortable handles, movable sections, side pockets. It is equipped with two straps for stationary fixation of the bag to the trunk floor.
#3. Drive Auto Products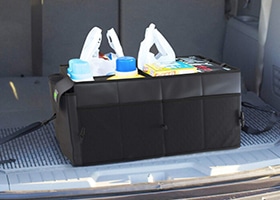 The organizer has an average size of L23 x W17 x H10.8 inches. Very strong side panels, water-repellent material, comfortable large pockets. This is not all of the advantages of this organizer. All seams are perfectly stitched. A good choice for a small price!
Conclusion
It was difficult to determine the winner among the organizers, as they are all of excellent quality. You need to decide on the amount of luggage transported every day and then your choice will be easier!
Cargo Cover for Toyota FJ Cruiser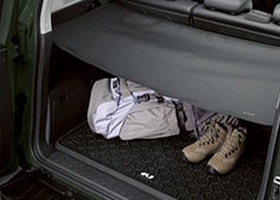 Toyota FJ Cruiser is not factory-equipped with a curtain for the trunk. If you need cargo cover you can always set it. The cover doesn't move or roll up. It's fixed and serves as a trunk visor. The cargo cover in the trunk can serve as an additional shelf for light items. It will only take 5 minutes to install and doesn't require any special knowledge. The drawback is that a subwoofer must be removed to use the cargo cover.
Key Fob Case for Toyota FJ Cruiser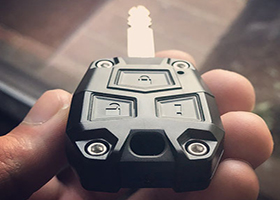 No one wondered how often we hold the ignition fob case in hand. The ignition fob case of the Toyota FJ Cruiser has the most common look, it is standard, like a Camry's or Corolla's one. Surprisingly, Toyota engineers worked on the exterior and interior of FJ, making its design very unusual and original, but at the same time ignored its ignition fob case. Luckily for us, that this can be fixed with the replaceable compatible ignition fob case from AJT Design.
There are two versions of the fob cases depending on the model year. (2 or 3 buttons).
The choice of colors for the key fob is also extensive. All the colors of the ignition fob cases match the colors of FJ Cruisers painted at the factory.
Brutal lines, massive bolts along the edges of the fob case are all made in the style of the FJ Cruiser. The key fob case is made of high-quality ABS plastic. Has protection against splashes. The AJT key fob does not require reprogramming, all the electronics, the battery and the key itself are rearranged from the old ignition fob case for Toyota FJ Cruiser. The process of changing the ignition fob case to a new one is very simple and everyone will cope with it!
Shift Knob for Toyota FJ Cruiser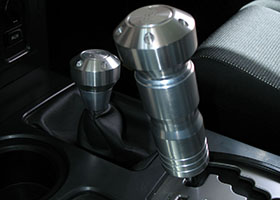 The OEM gear and transfer case shift knob is made of regular plastic and has an impressive, but very ordinary look. Not just that in the configuration of Trail Teams, the gear shift knob had a completely different design than in stock.
While the OEM shift knob is made of plastic, the Trail Teams shift knob is made of 6061 aluminum. It sits very nicely in the hand and has a fantastic appearance. Changing the gear and transfer case knob will take you no more than two minutes. There are two colors to choose from – black or silver. Suitable for all years of release of Toyota FJ Cruiser. This upgrade will easily add personality to the interior of your Toyota FJ.
Pros
Perfect fit
Easy bolt-on installation
Climate Control Knobs for Toyota FJ Cruiser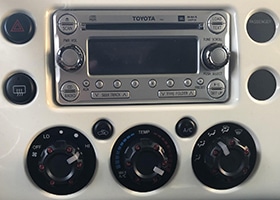 The OEM climate control knobs in the Toyota FJ Cruiser were made very large and comfortable. Toyota engineers have specially designed them in such a way that it is convenient to switch them even with the gloves on. There are good climate control knobs made by AJT Design if you'd like to update and customize the interior of your car. The climate knobs are made in a rough style, made of excellent quality ABS plastic. Wide range of colors available. Installing new climate control knobs will take you no more than one minute.
Toyota FJ Cruiser Passenger Armrest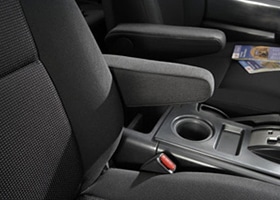 The Toyota FJ Cruiser has a wide and comfortable passenger seat, it is the same as in the Lexus GX, but without electronic adjustments. The only real thing that's missing for great sitting comfort is the armrest. Therefore, if passengers sometimes ride in your car, we recommend installing an armrest. The color and material of the fabric upholstery of the armrest matches the factory color and material of the seats. Installation is very simple and does not take you much time, no special skills required.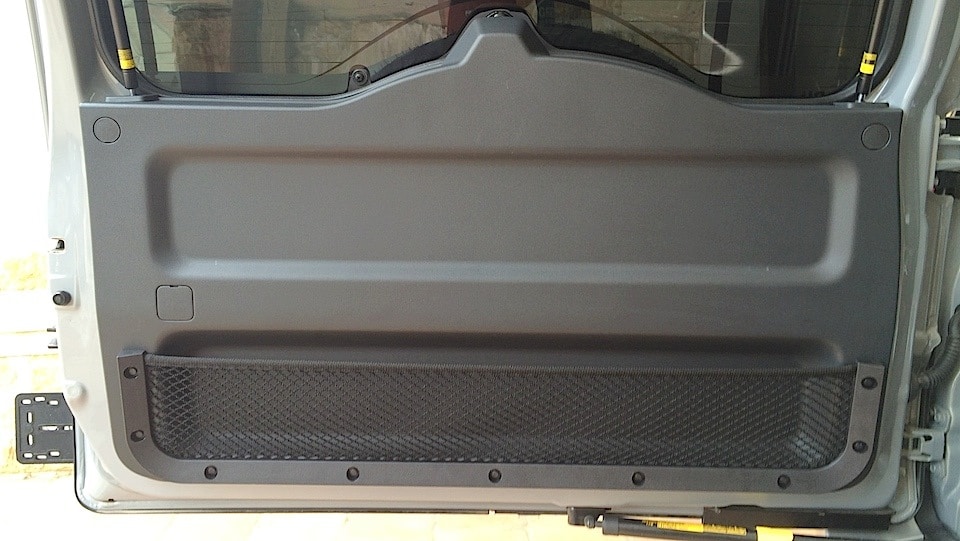 FAQs
What does a cargo net do?
Cargo nets are used to secure loads to prevent them from shifting during transport.
Is this cargo net universal? Or made for the Toyota FJ Cruiser?
This cargo net is only available for Toyota FJ Cruiser.
How hard is installing a storage net?
In the kit there is a detailed instruction. Installation does not require special skills.
Are bolts for installation included?
Yes, in the kit you will find all the necessary mounts for installation.
Is this a universal organizer bag or is it made specifically for the Toyota FJ Cruiser?
Yes, this is a universal bag, but it is great for the trunk of the Toyota FJ Cruiser.
When the bag is not in use, can it be folded?
Yes, all presented bags fold when not in use.
This cover for which model years of the Toyota FJ Cruiser?
Suitable for all Toyota FJ Cruisers 2007-2014 model years.
Which compatible key fob case do I need? How to choose the key fob for my Toyota FJ Cruiser?
There are two types of key fob cases. Two-button and three-button fob case.
Do I need to program the key fob case after replacement?
No, you just need to transfer all the electronics from the old to the new key fob case.
Does the paint not erase from the key fob case?
The coating is of high-quality and does not erase off over time.
What are climate control knobs made of?
The knobs are made of high-quality ABS plastic.
What are shift knobs made of?
The gear shift knob are made of aluminum T6.
Is this armrest suitable for a driver's seat?
No, it's only for the passenger seat.
Is this armrest suitable for all Toyota FJ Cruiser model years?
No, they are different. Choose your year of car release and follow the link.