We may earn revenue from the products available on this page and participate in affiliate programs.
The Toyota FJ Cruiser is a stylish and rugged SUV with vintage-inspired design elements. With its off-road capabilities, including water crossing, mud, and rock crawling, it's no wonder that FJ Cruiser owners are always looking for ways to enhance and customize their vehicles. From functional upgrades to aesthetic modifications, there are many ways to make your FJ Cruiser even more capable and unique. So why not explore the many options available and take your FJ Cruiser to the next level?
Many Toyota FJ Cruiser owners choose to install a front bumper guard to protect their vehicle from damage while off-roading. The rugged terrain and challenging obstacles often encountered on the trail can take a toll on your FJ Cruiser's front end. A front bumper guard can provide an extra layer of protection, helping to prevent mechanical damage and costly repairs.
With its sturdy construction, a front bumper guard can absorb impact from rocks, trees, and other obstacles that you may encounter while driving off-road. So if you're planning to take your FJ Cruiser on rough terrain, consider adding a front bumper guard to ensure that your vehicle stays protected and ready for whatever challenges come its way.
We have compiled a list of the four best front bumper guards for your Toyota FJ Cruiser. Our number one goal is to make sure you find one that will not only look great on your FJ Cruiser but also make the pocketbook happy.
Searching for the perfect bumper guard for your Toyota FJ Cruiser can be overwhelming, with so many options available on the market. That's why we've done the research for you and narrowed down the top four bumper guards that are specifically designed to fit your FJ Cruiser.
Our selection process took into account factors such as durability, ease of installation, and overall effectiveness in protecting your vehicle from off-road hazards. By choosing one of our recommended bumper guards, you can have peace of mind knowing that your FJ Cruiser is well-protected while you're out exploring the great outdoors.
#1. DNA Motoring – Toyota FJ Cruiser Front Bumper Guard
Best Choice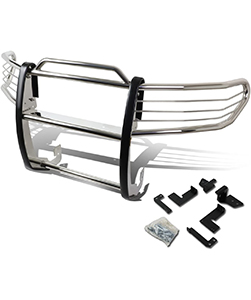 DNA Motoring - Best Front Bumper Guard
Toyota FJ Cruiser Front Bumper Protector
Get real front bumper protection for your vehicle! While offering great front bumper protection, your car will boast a look that screams "don't mess with me!"
Read More Reviews
The DNA MOTORING front bumper protector is a sleek and stylish addition to your Toyota FJ Cruiser, with an attractive chrome finish. It's easy to install with bolt-on installation and features main bars with a 1.5″ OD diameter. The guard also has pre-drilled holes for front-mounted fog lights and rubber padding to minimize impact damage. To maintain the finish on this bumper guard, it's recommended to use a non-abrasive wax.
Features
Stainless steel alloy construction
Fits 2007-2014 Toyota FJ Cruiser
Black powder coated application
Bolt-on application
Pros
Easy installation
Solid construction
Makes the vehicle look tough
High quality
Cons
Instructions could be better
Trimming of plastic bottom liner may be needed
#2. Tyger Auto – Toyota FJ Cruiser Textured Front Bumper Guard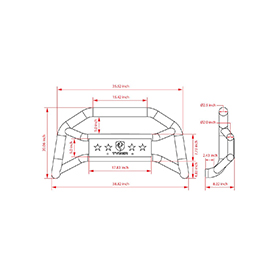 The Tyger Auto front bumper protector is a perfect fit for your 2007-2014 Toyota FJ Cruiser. Its unique design is patented and provides heavy-duty protection without rusting, giving your vehicle a customized look.
Features
Bolt-on application (no cutting or drilling needed)
5-year warranty against defects
Comes with pre-welded LED light mount channel
Constructed of heavy-duty tubing frame
Two pre-drilled holes for a license plate
Rust-resistant e-coated black finish
Pros
Solid metal finish
Allows you to retain tow hooks
Does not rattle or vibrate
Appeals to the eye
Easy installation
Affordable
Easy to read instructions
Amazing value
Cons
May interfere with front bumper sensors
#3. TAC – Steel Front Bumper Guard for Toyota FJ Cruiser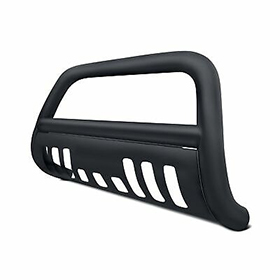 If you are searching for a front bumper guard with a classic design that gives a rugged appearance to your FJ Cruiser, then the TAC bumper guard might be the perfect fit. It is made of lightweight stainless steel, providing the necessary protection you need.
This front bumper guard will protect any passengers from collisions with other vehicles, animals, or any other objects. It was designed to fit models from the year 2007-2014. These bars are made to offer exceptional security when both on the road and off-road.
Features
Constructed from lightweight SUS-304 stainless steel
Bolt-on assembly
Removable skid plate
Auxiliary light mounting holes pre-drilled
Seamless Welding Construction
Pros
Easy to install
Classic design
Sturdy
Stylish look
Cons
Installation instructions are not included
#4. Black Horse – Grille Bumper Guard for Toyota FJ Cruiser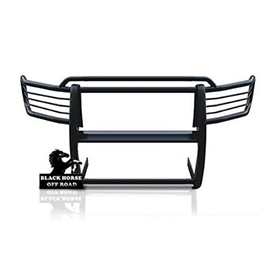 The Black Horse front bumper protector is an excellent choice for those seeking exceptional protection for their Toyota FJ Cruiser. Made of heavy-duty steel, this bumper guard is resistant to rust and corrosion. Its durable construction ensures that it can withstand impacts and protect your vehicle's front end. Additionally, the Black Horse bumper protector has a sleek and stylish design that will enhance the look of your FJ Cruiser.
This bumper guard works for all models of the Toyota FJ Cruiser from the years 2007-2014. It comes with a 3-year warranty that includes any defects from the materials and workmanship.
This grille bumper guard improves the look of any vehicle, no matter if you like being on off-road terrain or just driving for pleasure.
Features
No welding or drilling is required
Carbon steel construction
Vertical rubbing stripping
Heavy wall tube design
Removable headlight cages
Two predrilled holes for mounting LED light bars in the Crossbar
Pros
Easy to install
Provides a stylish look
Improves the look of a vehicle
Sturdy/made from high-quality materials
Brush guards are removable
Cons
Images in directions are not very good and are in black and white
May interfere with front sensors
Bolts are not divided up so you have to sort through all of them when installing
Conclusion
Front bumper guards are indeed an important accessory for SUVs like the Toyota FJ Cruiser as they provide increased reliability, functionality, and safety for the vehicle. They protect important components and body parts from damage in collisions with various objects. In addition to their functional benefits, they also enhance the appearance of the vehicle, giving it an aggressive and unique look.
We sincerely hope that our best front bumper guard for Toyota FJ Cruiser has helped you determine which make would be appropriate for you and your vehicle. While all of these are excellent choices and will improve the look and value of your FJ Cruiser, our number one pick, the DNA MOTORING front bumper guard is tough, providing you with mega protection. It will give your car the look you have been searching for.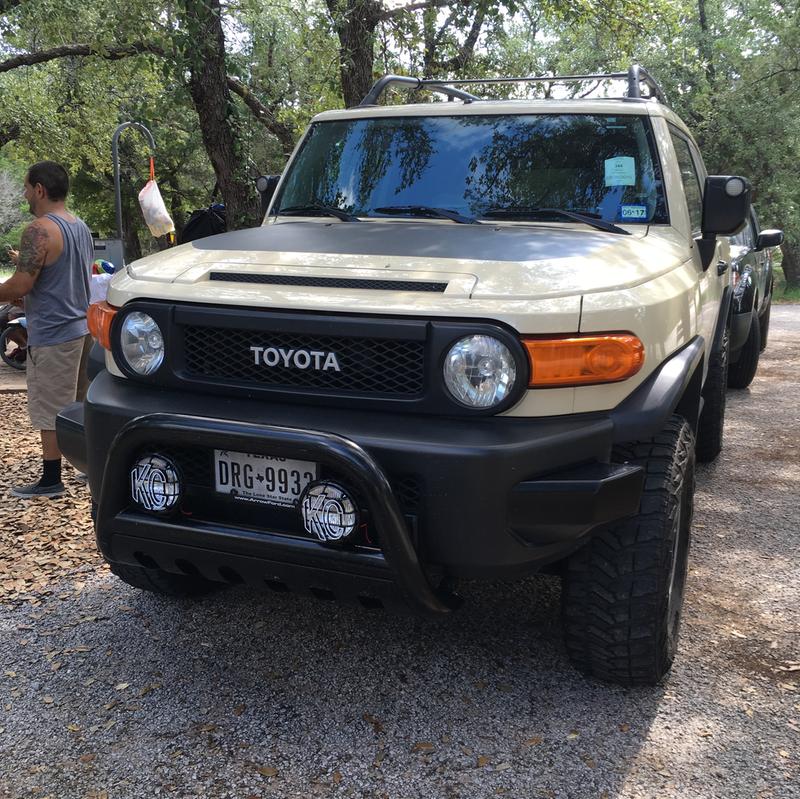 FAQs
What is a front bumper guard?
A front bumper guard will provide extensive protection to your Toyota FJ Cruiser. Expensive damage can occur if you take your chances and do not install a front bumper guard.
The bumper guard will also give your SUV an attractive and stylish look. Even if you do not partake in off-road activities, front bumper guards provide protection from everyday objects that might damage your vehicle.
Branches that have fallen into the road can damage your car, but a front bumper guard will help to protect it. Any animal that you hit can cause extensive damage, however, a bumper guard will help to minimize this. You can also minimize damage from another car running into you. Even little things, such as a shopping cart, can take a toll on your car, but with a bumper guard to protect it, the damage will most likely not be as bad.
Do bumper guards work?
Bumper guards have been designed to protect your car from extensive damage in the case that you are in an accident with another vehicle or hit an animal such as a deer. Generally, the damage of your car will not be as bad if you had a bumper guard than if you did not have one installed.