That's absolutely true! Most off-road enthusiasts will modify or upgrade their vehicles to better suit their needs and preferences. This can include adding lift kits, upgrading the tires, installing stronger axles, and many other modifications to enhance the vehicle's off-road capabilities. Additionally, many off-road enthusiasts also add exterior modifications such as winches, skid plates, and protective bumpers to protect the vehicle and improve its performance. All of these upgrades can make a significant difference in the vehicle's ability to tackle tough terrain and provide a better off-road experience for the driver.

In fact, the difference in many cases is nothing short of mind-blowing. You can't help but get your breath taken away because what started out as a pretty much a standard suv, has been transformed into this monster high up in the air with all sorts of coils and tremendous scary-looking set of wheels with a large bed ready to do business.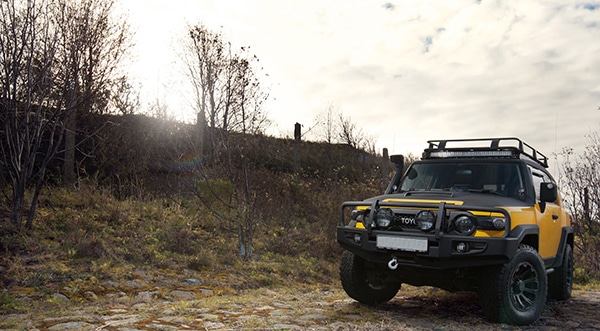 The amazing thing about all of this, is that this is not all for show. As intimidating as the transformation may seem to most people, it's also very practical because let's take a look at the standard trail that you're going to take an off-road vehicle to.
First, forget about roads. Okay? Let's just not go there because if you're going to just go on a flat road, I'm talking about a typical highway and a paved or semi-paved gravel road, any truck could do!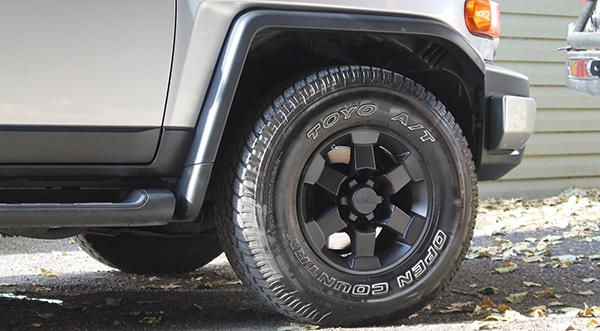 Any vehicle, doesn't even have to be a 4×4, can handle such flat terrain. That's what they were designed for. And as suvs continue to evolve, they can handle even more punishing terrain.
So, if there's some sort of road involved or even a trail, you don't need a souped-up hyper tuned off-road vehicle. You can handle that with an SUV, a truck or even some hardy sedans out there.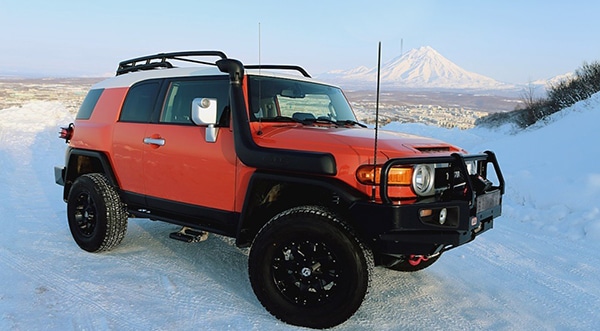 Now, it's a completely different conversation if we're talking about a hillside or a coastline that has a lot of rocks and possibly even boulders. Also, if you're looking at driving through an eroded portion of a river bank that has very uneven sides, many of them have mud which can be quite dangerous to a typical suv, then we're talking.
This is where the conversation turned serious because this is where off-road vehicles shine. This is especially true if you're going to cross a river. A lot of people at this point would give up.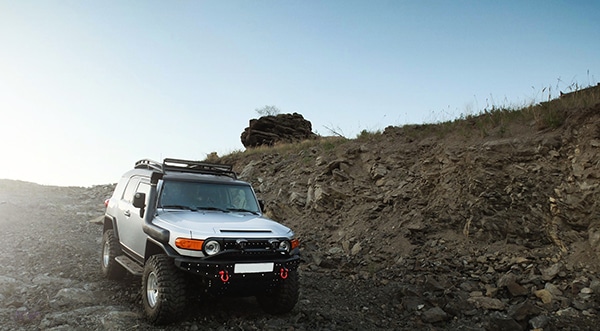 If you have a Toyota FJ and you just know you're going to cross a river or stream, forget it! How's that going to happen? Well, that's easy as 1-2-3 for a properly tuned off-road vehicle. If you have the proper off-road tuning accessories, going through a river can be downright child's play.
This doesn't necessarily mean that you're not going to get wet because those rivers sprays and all that splashing water can get to you. But you would have a piece of equipment that will get you a ride across. This is almost impossible to anybody driving anything less.
In fact, most people would expect some sort of bridge or roadway to cross a river. Not so with an off-road vehicle.
I'm not talking about those modern flood control cement arrangements like the LA River. No. We're talking "untamed" rivers that Middle America can definitely offer up. This is where off-road tuning accessories definitely come into play.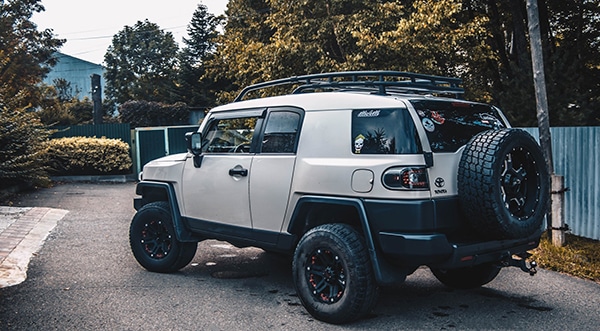 So, what accessory pieces of equipment should you put on your Toyota FJ Cruiser so you can bring out its very best?
Off-road Bumpers
First thing that you need to understand is that, from time to time, you're going to hit a barrier. This is not a question of 'if' but 'when'.
When you're going through a forest, a river or a stream and stuff maybe going down the stream and you didn't see it? It may hit your bumper!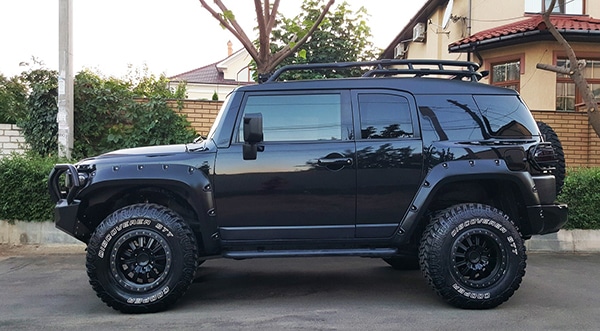 But the good news is, if you have off-road bumpers, either with the front and back design or all around design, these bumpers will do quick work of protecting the main chassis of your off-road vehicle from such fast-moving debris.
At the very least, you won't get hit so much that the main performance or capabilities of your Toyota FJ Cruiser would be affected. To put simply, you can get that you can take a beating and keep on going.
Suspension Systems
The suspension system is a crucial component of any off-road vehicle and cannot be skipped or overlooked. When driving off-road, you'll be encountering rough terrain and conditions that most regular vehicles won't be able to handle. Therefore, it's important to invest in a high-quality suspension system that can absorb shock, prevent damage to your vehicle, and provide a smooth ride.
Cutting corners on suspension can lead to costly repairs and even dangerous situations while driving off-road. You don't want to feel every depression nook and cranny, whole pothole or whatever else, the road has for you. Those gravely roads and uneven terrain can be murder on your back.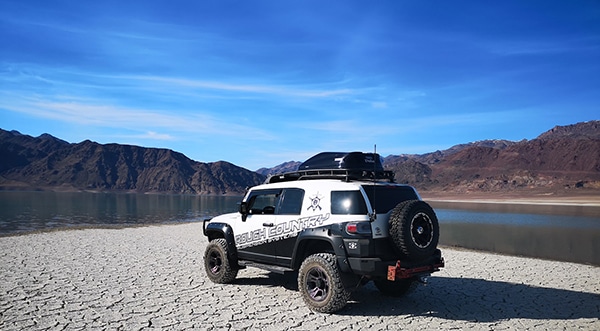 So, you need a suspension system that would be able to take all this punishment and keep on humming forward. Moreover, you need a heavy-duty suspension system that will be able to do this for a long extended period of time.
Custom Wheels and Rims
Usually when people think of custom wheels and rims, they automatically think of "vanity". After all, when you see people riding around in nice rims, you can't help but assume that they're doing it for the looks.
Well, for off-road vehicles, you're not doing it for the looks. You're doing this for survival. See the difference?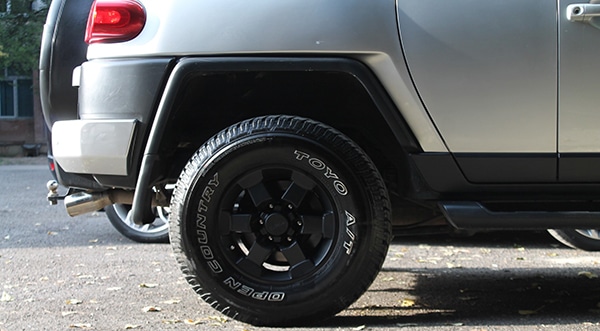 The harsh reality is that if you use the wrong wheels, I'm talking about wheels that get punctured easily, you may get stranded out there in the boondocks. Not exactly a nice place to be in.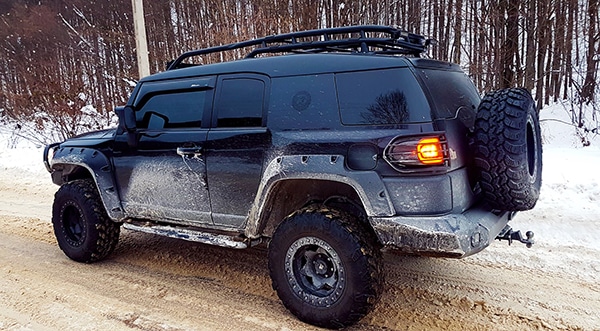 If you're off-roading, you're probably going to a place that has no radio signals and no electricity. You don't want to be stuck there. And this is why you need to invest in the right wheels.
We're talking about thick pieces of rubber that can basically withstand nasty punishment that the typical car would not be able to handle. We're talking about really sharp objects and really nasty rocks.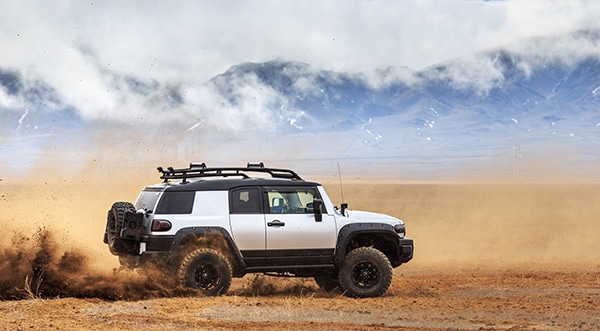 These custom wheels and matching rims just keep rolling over them and keep pushing forward because that's how they were built. They're all about rugged construction. They're all about taking the worst that Mother Nature has to deliver and keep pushing forward.
Exhaust System
An off-road exhaust system is very different from a typical cars exhaust system. Your muffler doesn't empty out at the bottom of your car. Instead, the exhaust system is way on top of your car.
Now, you may be thinking to yourself, "Why would anybody want to do that? Aren't they're afraid of pollution? Aren't they're afraid to while the smoke coming out from the top of the car?". The reason is actually quite simple.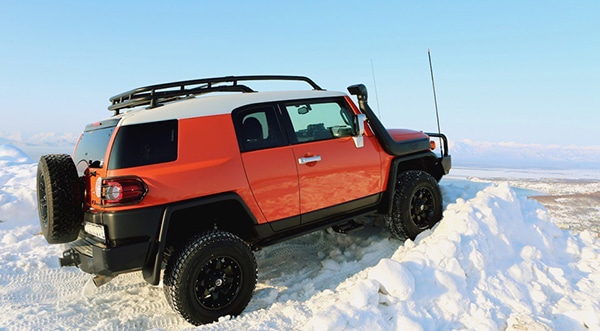 If you are going to be serious about your off-road use, you'll probably go to go through a lot of rivers and streams.
How do you get past such land features if your exhaust is located so low? You want to be able to go quickly through a stream and one of the best ways to do that is not having to worry about the exhaust and that's why the exhaust system is up top.
Off-road Lighting
A lot of off-roaders do a lot of their work that night. Whether they are racing or whether they're going through a really nasty trail that they don't want to sleep in, so they just travel at night. They travel throughout the whole night until they get to their destination and you need the kind of lights that will help you do this.
They have to not only handle a lot of punishment, but they also have to produce a tremendous amount of light without burning out your batteries.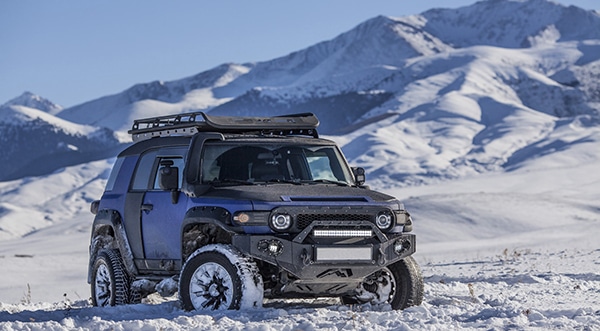 Conclusion:
Keep the tips above in mind if you're serious about off-roading. Off-roading is no joke. It's definitely something that you can take lightly. You have to think through the different accessories that you need to buy to make sure that your next off-roading adventure is not only possible, safe, but also fun.