Intro
If you're looking for a highly capable off-roader from Japan, the Toyota FJ Cruiser is a great option. This vehicle is known for its ability to conquer any terrain and handle any task. Here's everything you need to know to learn about the Toyota FJ Cruiser and get up to speed.
History
The Toyota FJ Cruiser has become a popular platform for modifications, but its origins lie in its use for military purposes. It all began with the Willys Jeep during World War II, which caught the attention of the Japanese military. They then requested Toyota to develop a better version of the lightweight and versatile vehicle used by the U.S. Military. Toyota answered with the AK Series, which proved to be capable offroaders, but ultimately did not turn the tides of the war in Japan's favor.
After the Korean War, Toyota decided to produce civilian versions of the Land Cruiser, and it became a hit in the offroading community. Fast forward to 2003, Toyota released the FJ Cruiser concept car at the Detroit Auto Show, inspired by the FJ40 Land Cruiser from the 1960s. It had retro styling, a powerful V6 engine, and serious offroading capabilities. The concept was so well received that Toyota decided to put it into production, and the FJ Cruiser hit the market in 2006. It was immediately popular with offroad enthusiasts, and it remained in production until 2014.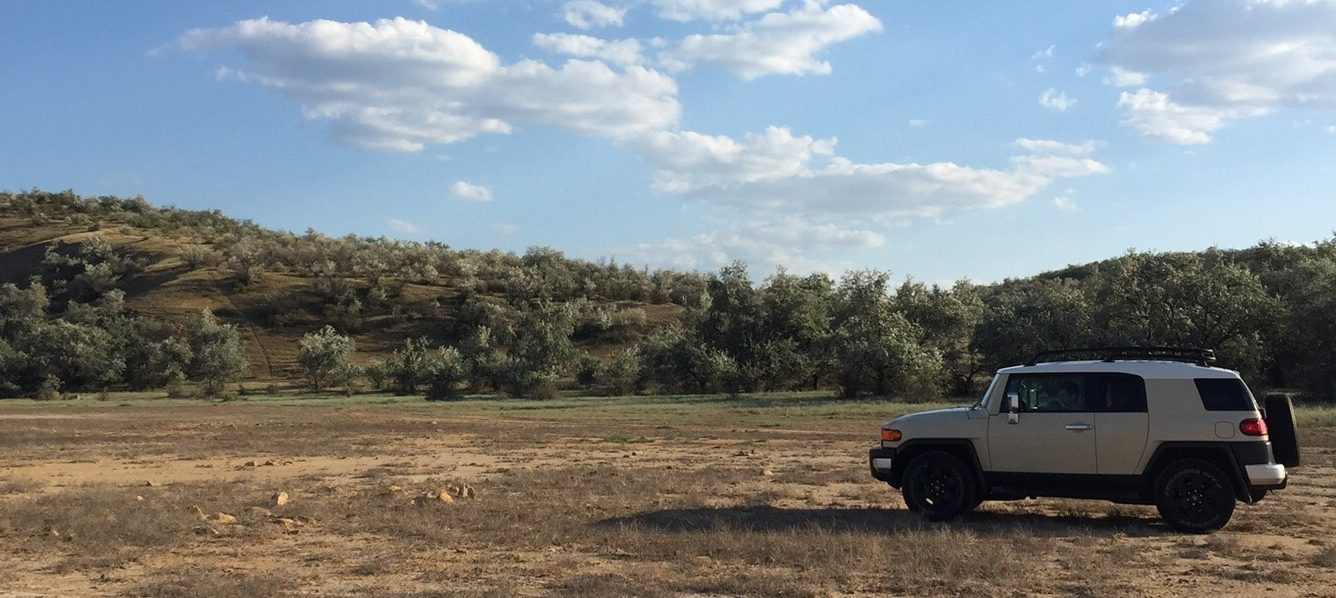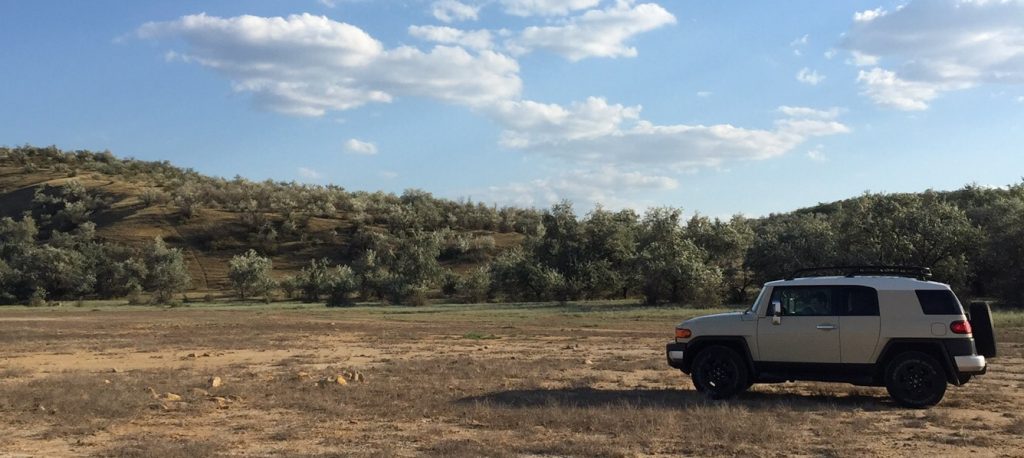 In 1955, Toyota released the second-gen Land Cruiser which featured a fully redesigned 3.9 liter, inline 6, F-series engine. These were known for their high amount of torque and low RPM, massive cast iron blocks and heads, and crazy good reliability. And in 1960 it was this engine that gave birth to one of the most iconic Toyota of all time, the FJ-40.
Now the FJ-40 not only conquered the jungles, mountains, and deserts of the world, it made Toyota a global brand. The FJ-40 was so popular that they sold them for 40 years. And Toyota, to this day, still makes new replacement parts for the FJ-40. The FJ-40 has a cool story.
So, if the FJ eventually turned into the Land Cruiser, we know today, where did the new Toyota FJ Cruiser come from? Well, it started as a concept that was never meant to be built. The new FJ Cruiser AK XJ-10 made its debut as a concept only vehicle during the 2003 Detroit Auto Show. And the voodoo blue retro off-roader quickly cast a spell on those longing for the good old days. While modern Land Cruisers were still super badass off-road, they'd become 3-row behemoth made for transporting drug lords through South America, warlords through Africa, and moms to the mall. The old school Land Cruisers like the iconic FJ-40 were way more utilitarian.
The lightweight and torquey vehicles could go almost anywhere and gave Jeep, their main competitor, a run for their money. Moreover, they looked really cool, which appealed to young people at that time. The FJ concept was developed from the internally labeled RYU (rugged youth utility) design team. However, the mid-2000s were a "grey" period for Toyota, as their business model had become conservative and unexciting.
They got rid of all the small, fun enthusiast cars like the Supra and the Celica. And Toyota had no plans to produce the FJ concept, they just wanted people to think that they were trying. To their surprise, the reception for both the media and the general public was overwhelmingly positive. So with no production plan in place, chief engineer, Akio Nishimura, was given the almost impossible task of developing an FJ that could roll into showrooms in just 3 years.
Normally, car development takes anywhere from like 7 to 11 years. And even though he was
like, this is crazy the dude made it happen, so props for that. The 2007 model year FJ was based on a stretched Land Cruiser Prado 120 box frame. It was powered by the legendary 1 GR-FE engine, which was an aluminum 4-liter V6, good for 239 horsepowers.
The engine was later upgraded with VVT-I which gave it an additional 20 horsepowers. This was paired with your choice of a 5-speed automatic or a 6-speed manual. It was offered in either a 2 or 4-wheel drive option.
But it wasn't until you got past the drivetrain and underpinnings that the real beauty of the FJ came out. First and foremost, it was designed to be utilitarian like the FJ-40 Land Cruisers of the '60s. This was achieved in 2 ways: The first being, tremendous off-road capability. And the second being, unusual exterior, and interior design elements.
Toyota claimed that the 4×4 version, which was the one that everybody bought, was the most capable off-road vehicle in their lineup. It can drive through water up to 27.5 inches. It had an approach angle of 34 degrees, a departure angle of 30 degrees, and a boy band angle of 98 degrees. Toyota FJ achieved its off-road capability by using a high mounted, double wishbone, front suspension, a 4-link rear suspension, with a lateral rod, coil springs, and a stabilizer bar that provided over 9 inches of travel.
Toyota made several design choices to enhance the FJ's off-road capabilities, such as placing the air intake box on top of the engine to improve breathing and giving the front and rear bumpers a high clearance to minimize damage. The FJ also featured Toyota's A-Track system, which applied braking to wheels that lost traction, simulating the effect of a locking differential without the binding that could make steering challenging. These features showcase Toyota's ingenuity in creating a superior off-roading vehicle.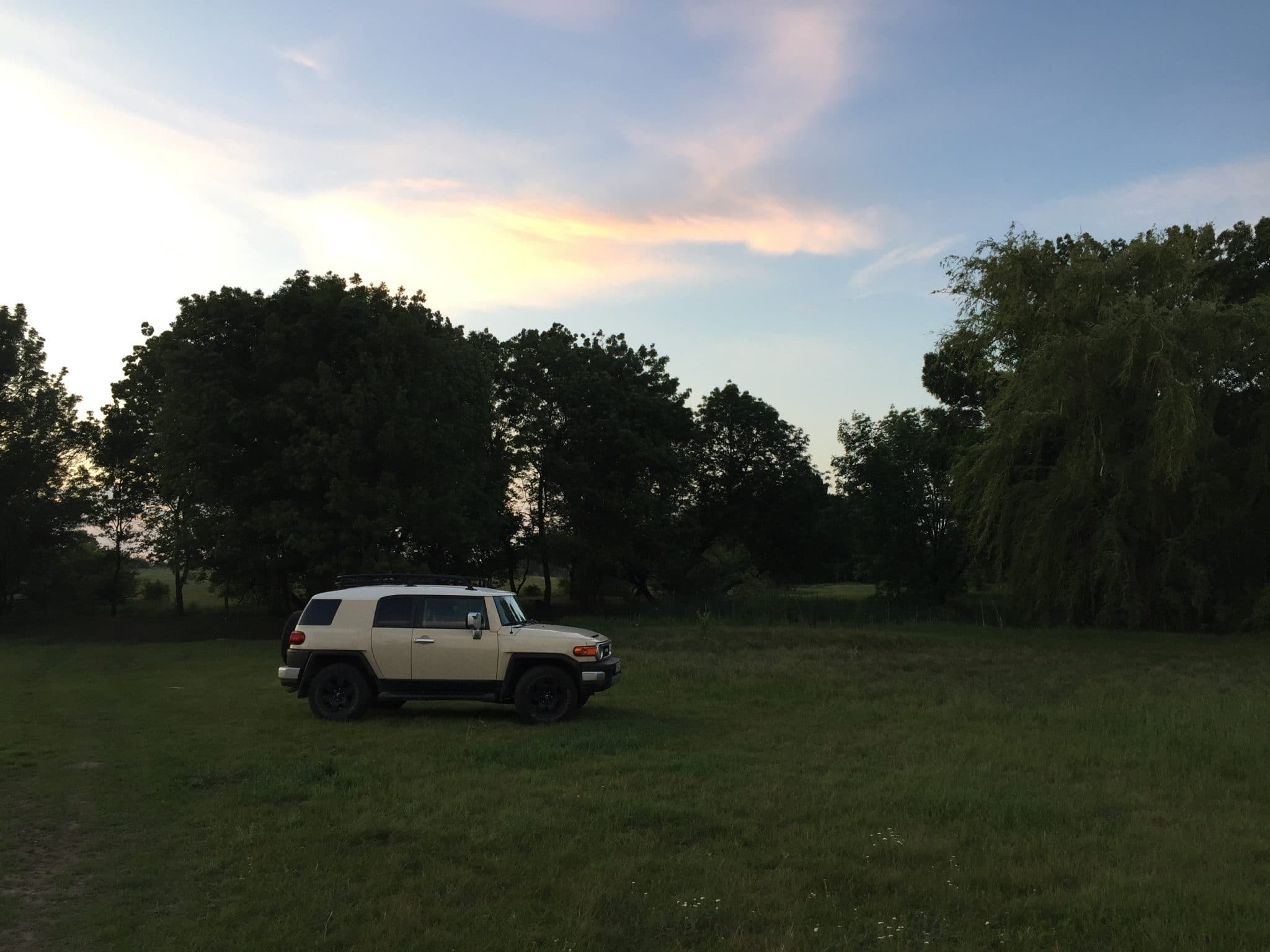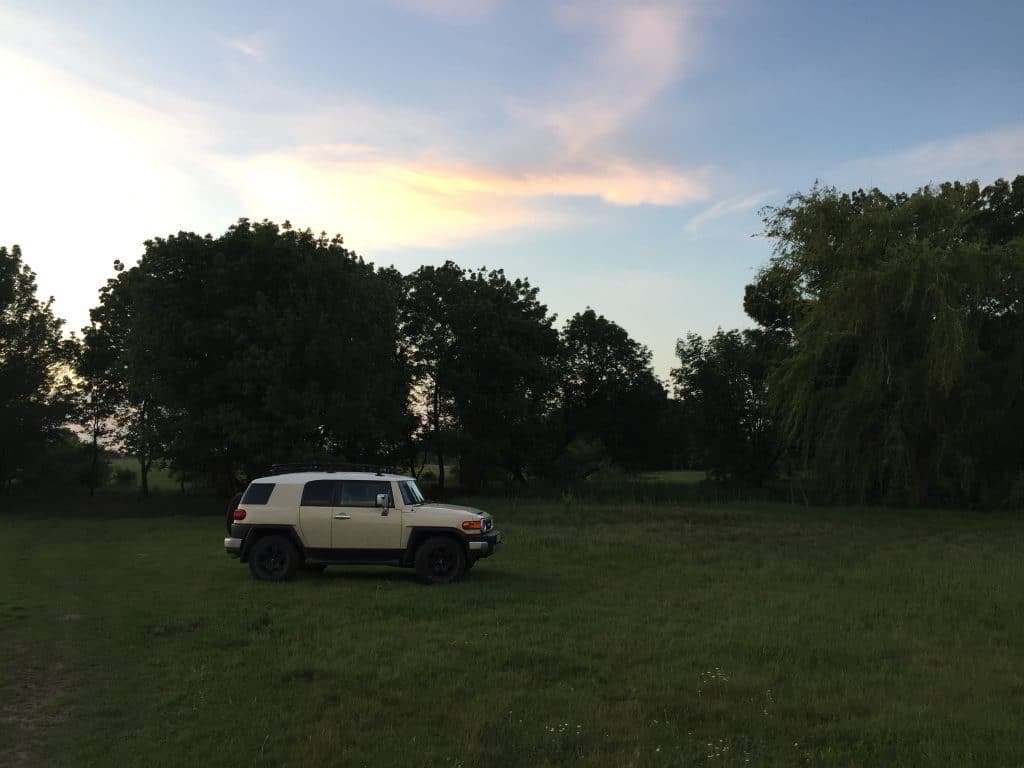 One of the unusual exterior design elements is the windshield. And it's at an angle similar to its namesake FJ-40. Because of this, it had to have 3 front windshield wipers. The downside to the cool looking windshield, however, is that it's loud and it breaks because it doesn't deflect wind or road debris, which is like, in my understanding, the main 2 jobs of a windshield. Also, like the FJ-40 instead of having the Toyota emblem on the grill, they spelled out "TOYOTA".
Another exterior design element is the hidden doors, which open 90 degrees to make it easier to load and remove the quick-release seats. Though this suicide door design also meant that if the person in the front seat got out at the same time as the person in the back seat, they would be trapped against the parked car next to them. The doors also make it easier to hose down the interior and I mean that quite literally. The inside of the car was made of waterproof plastic so it could be easily cleaned and also easily be manufactured. Another unusual interior design element would be all the dummy switches.
Normally blank switches are bad but in the case of the FJ, they're pretty cool. In a rare move, Toyota gave the off-road aftermarket early access to the FJ so that when it launched, customers could immediately find aftermarket parts like winches, light bars, and brush guards to turn their Toyota into Incredible Hulk off-roaders. Which brings me to our next subject.
Customization
The company offered a TRD version, which included a catback exhaust, roof rack, Bilstein 5100 shocks, rock rails, TRD wheels, and BFGoodrich tires. And in some cases, a different mechanical locking diff, or you can have your local dealer turn your cruiser into an FJ Crawler with brush guards, skid plates, lift kits, and more from the legendary Australian off-roading company, ARB. The Toyota-issued trail team special edition models featured unique colors for each year. And personally, I am quite partial to 2008 Sandstorm. The FJ Cruiser is a great truck and Toyota sold over 100,000 of them in the first 2 years but as sales tapered off dramatically, Toyota decided they didn't want to carry a car in their lineup that only averaged 14,000 sales a year. So in 2014, they quit selling it. And the irony is, that the FJ Cruiser maintains its resale value better than almost any other vehicle in America.
Conclusion
So if you learn anything from this post, I hope that it's you should take all of your money, and buy a ton of FJ Cruisers 🙂